'Keeping Up With The Kardashians' Season 7 Episode 5: We Finally Meet The Memoir Man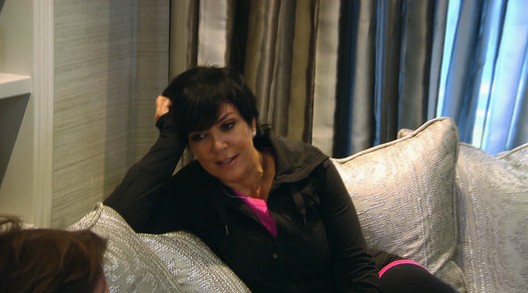 In last night's episode of Keeping Up With The Kardashians we finally had a chance to meet the much talked about Todd Waterman from Kris' memoir. The meeting brought out several emotions that Kris probably thought she didn't still have; and a big question mark for us viewers of whether she went to secretly meet with him or not.
The episode also brought a short lived BFF relationship between Scott and Kim, and a big overlooked mess by Kendall and Kylie. Here is the full recap. Let me know your thoughts on the episode down below.
Kris "Snookum" Jenner Has A Run In With The Memoir Man
While Kris was taking a tennis lesson and making those horny grunting sounds that she likes to make, the momager runs into the man from her memoir Todd Waterman. After realizing that it was him she literally almost has a panic attack, but decides to talk to him anyway.
The two speak briefly on all of the rumors and drama caused by Kris' book. Todd brings up the fact that he tried to reach out to her, but she tells him that her email changed and gives him her business associate Noelle's email.

Afterward she goes back to her office and tells Noelle that she just ran into Todd and reveals that after 24 years he hugs her and says that "He doesn't want to let go." Plus she warns Noelle to watch out for dirty emails, since she gave him her email address.

Kris heads home to tell Bruce about the run in. Bruce is furious and tells her that she never should have spoken to that scumbag, but Kris seems to be a little intrigued by the whole thing.
Back at the office Noelle tells her that Todd sent a one word message "Snookum." She reveals that "Snookum" was the pet name that Todd gave her. The memoir man later emails back asking to meet up with her, and she breaks down and questions if she wants to see him again.

Throughout the episode Kris goes back and forth with the idea of meeting up with Todd and even asks Kim and Khloe if she should meet with him. Both Kim and Khloe advise her that if she wants to stay married that she needs to stay away from him.
But in the end it looks like she doesn't take the advice of the girls and goes to meet with him anyway. That's pretty much where the episode ended, so we won't know exactly what happened for sure until next week. What do you think? Yea or Nay?
Scott and Kim BFFs

The episode started off with Scott trying to persuade Kourtney to have a night out on the town with him. Kourtney is so not interested and decides that she will make plans for Scott to hang out with Kim. She figures if he hangs out with her younger sis that there will not be any trouble, since Kim is a bit of a bore.

Scott agrees to hanging out with Kim, but brings his friend along to make things a little more interesting. But to Scott's surprise Kim has developed some extra swag and is more fun to hang out with than him and Kourtney thought she'd be. During dinner Kim jokes about being older and speaks on possibly receiving artficial insemination and afterward she ends up flashing a few random people during a game of chat roullette.
Scott is excited about how cool Kim is, and the fact that he has a new BFF. He dishes to Kourtney about his fun night. Kourt thinks his night with Kim sounds interesting and doesn't mind that the two are getting so close at first, but as the episode goes on she gets more and more jealous. "The party is over," she tells Scott and Kim. And Scott is in awe, because Kourtney is jealous.
Kendall and Kylie's Spaghetti Mess

Kendall tells Kylie about a cute video message that a boy made for her asking her to the prom. Kylie teases her and in the midst of the two playing around, spaghetti falls on the expensive floor.

The two try to clean up the mess with paper towel, but the stain gets worse. So, they decide to head to a floor cleaning specialist and end up buying a spray and huge floor cleaner that leaves a tear in the floor.

The two swear that they are in big trouble and when Bruce realizes that they are up to something he tells them to come clean to Kris. They finally do, but Kris is so preoccupied with the Todd drama that she brushes it off.