'Keeping Up With The Kardashians' Season 7 Episode 3 Recap: Intervention? No One's Wig Is On Straight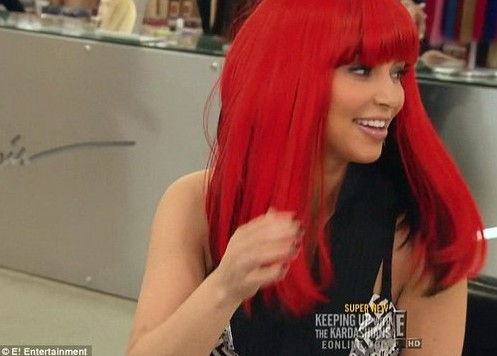 Intervention? Everybody's wig seemed to be a little off on last night's episode of Keeping Up With The Kardashians. Momager madness, Kim's multiple "wig" personalities and Rob a European snob!

I felt bad for those who had to deal with the craziness, including baby Mason who was scared nearly to death by aunt KiKi and her Chucky wig, Bruce who was snubbed by Rob's new snotty European attitude, and pretty much anyone who crossed paths with the road rage momager, Kris.  

Kris Momager Madness:

The episode started off at Kris' office where she frantically walked around complaining about her back to back meetings, and how hectic her schedule was because of a new music company venture with producer Kenneth "Babyface" Edmonds. She told her assistant, "Excuse me, but I just want to scream."

Mommy dearest's schedule didn't just take a toll on her, it affected the entire family and anyone in her vicinity. While Khloe was in town for only 24 hours the working mom rudely tried to put a rush on dinner, since she had no reception on either one of her phones.

She completely ignored Bruce when he tried to pour his heart out about Rob hurting his feelings. Kendall and Kylie were upset, because she was no longer cooking or having dinner with them. And while driving with Kendall and on another occasion with Scott the momager seem to develop a serious case of road rage, lashing out at anyone crossing her path.
Pure chaos! Which lead to an intervention where Kourtney and Kendall took both of her phones away so that the Kardashian mom could have some time to unwind. The mommy-to-be also invited some of Kris' besties over to help keep her occupied.
In the end Kris was happy that the girls forced her into having some free time. But once the business manager realized that she had over 300 emails, she freaked out. "This is exactly why I shouldn't have cut my phone off." After checking into some of the emails she notices that everything has been handled, and that she is just a complete control freak.

Kim's Multiple "Wig" Personalities:

Kim calls Khloe to vent about a frustrating meeting that she had over her divorce. Khloe tells the second time divorcee to go out and have some fun for once, which leads Kimme K to develop a wig obsession.

After speaking to Khloe, Kim and Khloe's bestfriend Malika head to a wig shop and pick up multiple colored wigs. From that point the celebutante continues to pop up throughout the episode with a different wig and name for each time that she appears.

The looks included a dumb blond look that completely annoyed Rob, "Natasha" a red haired spy that scared poor little Mason to death and the Kris Jenner look that had Kendall and Kylie questioning if she was losing her mind.

During Kris' intervention Kim is also placed in the hot seat about her wigs and multiple personalities. She admits that it was just something fun to do, and tosses the blondie over to Kris who everyone says looks absolutely amazing as a blond.

Rob Turns Into A European Snob:

Rob receives a big welcome home after his European voyage to get things started with his sock line. He mentions that he needs to find a new place and after Kris says that she's too busy, Bruce automatically volunteers.

Rob isn't too pleased with Bruce volunteering, because he thinks that he doesn't know anything about house hunting. So, he goes behind Bruce's back and invites Kourtney along to help him out. Bruce senses that Rob doesn't trust his judgement and continues to try his best to help him out.

But once Rob tells everyone during dinner that the search isn't going well and he wishes his dad was there to steer him in the right direction, Bruce feels hurt. The Kardashian stepdad tries to tell Kris how he feels, but she is so consume with work she doesn't pay him any attention.

Kourtney tells Kris that she should talk to Rob, which she eventually does. During their convo Kris reminds Rob of how much that Bruce has been there for him by playing an old home video. "I need to watch these more often," he says. "Bruce has been there for me." Afterward he goes to patch things up with Bruce and the two give each other one big man hug.