'Keeping Up With The Kardashians' Recap: We're Having A Baby!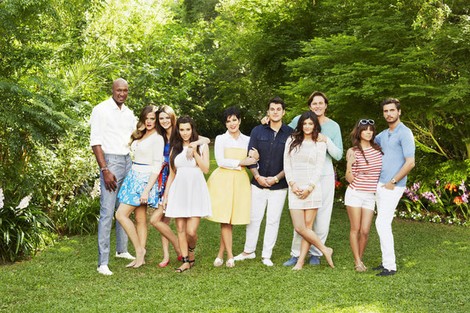 Life has changed since Kourtney and Kim took Miami. The girls are firmly planted back in Los Angeles with the rest of their family, and pregnant lady Kim is trying to settle into her new role as mom-to-be without freaking out too hard. As you might recall, Kim is still technically married to Kris Humphries, as he won't give her the damn divorce already, and she's carrying Kanye West's child.
And to top it all off, her wacky stepbrothers Brandon and Brody Jenner have moved into her house and won't leave her alone. Just kidding. But seriously, why are they on the show now? Have the royalty checks from The Hills stopped coming in?
Bruce doesn't have much to look forward to in his life, but he does have a group of mustachioed model helicopter pals to hang out with, so Kris grants him a generous night of fun. The gang comes over to get drunk and fly helicopters around the foyer while Kris attempts to sleep upstairs. It's understandable that she's annoyed, but the man has very few joys; let him have this one night of lame, dorky debauchery.
At a family gathering, Rob and Scott start talking about anal sex, as you do. Rob has done it with tons of ladies. You can totally ask them yourselves because they definitely exist. Scott is upset because Kourtney refuses to be a "backdoor betty," and it's now his mission to convince her to do anal. I mean, if Rob did it, then Scott needs to do it.
He won't stop pestering her, especially when she wears a pair of short shorts, so she attempts to explain the situation to him using props. Mainly a giant carrot and a crumbling chocolate donut. He counters with a cucumber and a flexible gummy ring. Somehow she's still not in the mood?
Kris has been nagging Bruce so much about being loud and not respecting her space that ONE TIME, that he has decided to find himself a "man cave" that is really a beach house in Malibu, that is really a no Kris allowed fortress. The plan is, whenever Kris drives him crazy, instead of fighting, he'll just escape down to the beach for some alone time and cool off. Sounds healthy. Kendall and Kylie aren't so sure that this is normal, and are pretty convinced their parents are getting divorced. Rob, Brandon and Lea seem to agree.
When Scott texts Kourtney at DASH and pesters her again about anal, Khloe advises her to tell him that the only way she'll do it is if he agrees to try some backdoor action first. She offers up this plan, and he is completely horrified. He's going to call her bluff.
He shouldn't have, because Kourtney buys a strap on and chases him around the house wearing it. It works, because he realizes that it's how she feels when he won't leave her alone when he wants sex. Or maybe seeing her doing jumping jacks while wearing a dildo was too much to handle. Whatever, she got her way!
Kim takes Khloe down to the house she bought with Kanye. It's gorgeous, but they're completely renovating the place to the point where it won't be liveable by the time the baby arrives. Kim hasn't really thought this through; she just says she'll stay at her mom's house and have Kendall and Kylie babysit the newborn whenever she needs a break. Where is Kanye when all of this is happening? Why can't she and the baby just stay with him?
Well, when Kim goes over to her mom's house and sees that her mom has started prepping a nursery, she loses it. Her anxiety over the baby is getting in the way of her having a nice, normal pregnancy. The stress of dealing with her divorce, and trying to sort out where she's going to live – everything on her plate – is starting to overwhelm Kim, and to others, it seems like she's not excited about the pregnancy. She just feels like she can't be happy because of her situation. So while it seems like she's being ditzy about certain aspects of the pregnancy (like not baby proofing the house), she's really just putting it off because of anxiety. WHERE IS KANYE?
Kris is enjoying the silence at home, but down in Malibu, Bruce has himself a party house. He has the Jenner kids over all the time for ping pong and booze, and there's junk food everywhere. A giant helicopter is proudly displayed for all to see. Kris is starting to miss him, and visits the bachelor pad with Kylie in tow. After criticizing the mess, and almost ruining things again, she asks him to come home. He happily agrees.
To give Kim the support she needs, Kris brings Khloe and Kourtney to her next doctor's appointment, where he reveals the sex of the baby. She is reluctant at first, but Kourtney tells her that knowing will get her more excited. Kim and Kanye are having a girl!
And with that revelation, Kim is finally excited about her pregnancy. She still has a lot of stress in her life, but now she is at a place where she can start to move forward, with Kanye and her baby girl.
Grade: B
Random Thoughts:
- What Kanye song do you think Kim is having her baby listen to in utero? I'm trying to think of any fetus-appropriate lyrics.
- Seriously, what happened in Brody Jenner's life that he decided he needed to join the cast? He looked thrilled to be there.
-Best Quote:
Kourtney: "I just got a text from Scott. It says 'Knock Knock. Who's there? It's my penis, knocking at your back door.'"