'Keeping Up With The Kardashians' Recap Season 7 Episode 11: Romance, But Not In This House!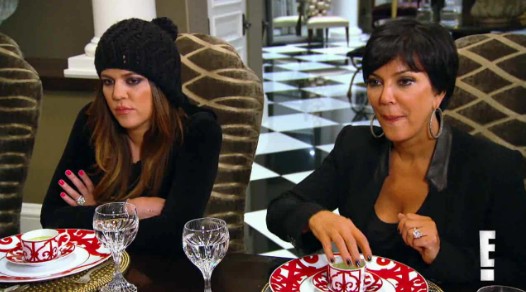 Where's the romance? That was the big question as Bruce and Kris battled it out for each other's affection, resulting in a big surprise at the end. Rob also experienced somewhat of a battle not in the romance department, but with his beloved sister Khloe over his housing situation. Here is the full recap. Let me know your thoughts on the episode down below. 

The episode opened with a lot of tension still lingering between Bruce and Kris. During a dinner where Kris invites Lance Bass and his boyfriend it's very obvious that the fire has burned out between the two, as they sat far apart from each other at the dinner table. "What romance do you guys have?" asks Khloe.

The tension builds up even more as Bruce surprises Kris with his new supermodel golfing buddy, Angie Everhart. "I think it's gonna be a lot of fun" says the Kardashian stepdad. "She is a lot better looking than some of my friends." Kris isn't too fond of the whole thing or the fact that Bruce is constantly bragging about his beautiful golfing partner.

Meanwhile Rob is on the hunt for a new place, and decides to bring Scott to tag along. While checking on this one place they agree that the home is "party perfect," but when he finds out that the asking price is a million dollars he is a little reluctant to buy. Afterward he consults with his business partner Elizabeth who reassures him that it's probably not the right thing to do and that he should take his time.

From there Rob decides to call his pal Lamar to ask if he could crash with him and Khloe again. Lamar of course is ecstatic, but Khloe is a little wary about the idea. She feels that he has been doing well on his own after "Dancing With The Stars" and doesn't want him to back track.

In the meantime Kris is convinced that something is going on with Bruce and Angie. Especially the way he talks about the supermodel and the fact that he forgot to pick up her dry cleaning. The Kardashian mom dishes to Kim about the situation and they decide to move forward with "Operation Angie Everhart."

At the golf course the two check out Angie and Bruce with binoculars and notice that the way Bruce is touching Angie's arm is not part of the game. The momager is furious and decides that she is going to take matters into her own hands. So to show Bruce that two can play that game, she contacts Todd Waterman to meet with him.

Back at the Odom house Khloe and Rob are constantly bumping heads, and Khloe is so ready to kick him out. After she finally calls him out, Rob tells Khloe why he has been extra moody and the reason for really needing to stay at their house. Khloe is happy and somewhat proud of Rob for telling her the truth. The two come to an agreement that Rob will pay $3,000 in rent and that she will put the money into a savings account for his new place.

At the Wilshire Hotel Kris meets with Todd Waterman who comes in about 30 minutes late. He charms her and she is surprised at how at ease she is with him. At this point there is a whole lot of flirting going on. From there Kris asks Todd if he is in a relationship. Todd replies by saying no, gives her a whisper and implies that he has been waiting 23 years for her.

Things really heat up from there. "I think timing's everything," Todd says seductively. "How much time do we have tonight?" Kris replies, "How much time do you need?" 

And it's to be continued. Too hot for TV!!! Until next week. Don't forget to leave your thoughts down below.