'Keeping Up With The Kardashians' Recap Season 7 Episode 10: Sir Scott Disick Takes On The UK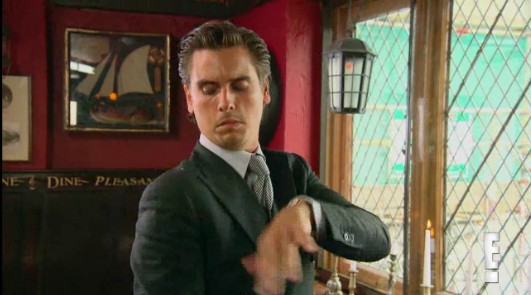 On this week's episode of Keeping Up With The Kardashians the klan got their travel on once again. Kim, Kanye, Scott and Rob took on the U.K. all getting the royal treatment, especially Lord Disick. While Khloe, Kris and Bruce had a testy time in Boston. Here is the full recap. Let me know your thoughts down below.

The episode starts off at Kourtney and Scott's house. Scott is excited because him and Rob are headed to join Kim in London, and to have some fun on their own. Kourtney laughs at him about the way he packs, and let's him know that she wants him to be a gentlemen. But, he teases letting her know that he plans to get wild. 

in London Kim is launching her fragrance and brings along Jonathan Cheban to keep her company. But, throughout the trip she ends up being so busy that Jonathan becomes completely annoyed. Especially since she is spending most of her time trying on outfits that Kanye handpicked for her and getting her hair done. 

Meanwhile back at the Jenner house Kris, Kylie, Kendall and Bruce talk about Kendall getting her first apartment. Kris is not really enthused about the conversation, but Bruce is looking forward to it. From there after briefly spazzing out on Bruce, Kris changes the subject and asks Khloe to go to Boston with her. Khloe doesn't seem to be too excited about traveling with Kris and Bruce, because she thinks that Kris is too hard on him.

Back in the U.K. Scott and Rob entertain Jonathan after he vents to them about Kim not hanging out with him. While on a stroll they pass the Queen's jubilee which seems to make a big impression on Scott. From there the guys end up on the hunt for a royal portrait gallery, because Scott wants to become royalty. Scott eventually finds his way to a ceremony where he is knighted and becomes Sir Scott Disick.

Back in the US there is still tension between Kris and Bruce. The married couple get into it when Bruce expresses that he doesn't like driving Kris' rolls royce, because it hurts his image. The momager fires back and tells him that he doesn't have an image, which makes the Kardashian stepdad angry. He pulls over and Kendall takes over the wheel.

To vent Bruce meets with Khloe and Kourtney for lunch. He speaks to the girls about the way that Kris treats him and even calls her an "idiot." Khloe is so on team Bruce and says that she doesn't think that Kris gives him the respect that he deserves. Then she gives him praises for telling Lamar such an uplifting story.

Later on at the Jenner mansion the car arrives for Boston. Kris and Bruce head to go pick up Khloe on a very awkward ride. Kris is anxious and can't wait for Khloe to get a taste of Bruce's attitude. And on the trip Khloe sees exactly what Kris is talking about when Bruce gets funny about her bringing luggage for the overnight trip, gets very testy when the ladies are running late and defensively brings up how much insurance Kris has on him. 
When they arrive back in L.A. Khloe apologizes to Kris about siding with Bruce. She then tells Bruce that he was being tough on Kris. Bruce realizes that he was wrong and makes a promise to be nicer to Kris.

In the U.K. Rob and Scott meet with Kim, Kanye and Jonathan for dinner. Scott goes on about being royalty and gets a little advice from Kanye on how to bling out his look. Kim is not too fond of the whole thing or Scott pretending to be royalty, and he ends up being a pain to Rob for the rest of the trip. 
They soon all head their separate ways, but Kim manages to make a little time for Jonathan before heading to Cannes with Kanye. While Scott and Rob head back to New York, Scott arrives back home and greets Kourtney showing her that he is royalty. As usual she is not impressed and lets him know that she is the queen of the castle, and he realizes that his reign is officially over.