Keeping Up With Kim Kardashian's Wedding - All The Details On Her Big Day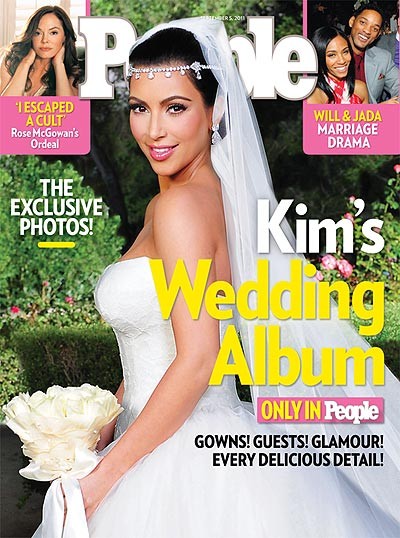 With three couture gowns, 50,000 flowers, and $15 million worth of diamonds, Kim Kardashian's storybook wedding to NBA star Kris Humphries is chronicled in the latest issue of PEOPLE, with 11 pages devoted to exclusive photos, interviews, and delicious details of her big day including the gowns, the guests, and the glamour.

Grand and unapologetically described as "over-the-top glam, but just so elegant" by the bride, the August 20 nuptials of Kim, 30, and Kris, 26, at a private estate in Montecito, California, were as outsized as the 6'9" groom himself. But even in the midst of such arresting extravagance – the bride was decked out in Lorraine Schwartz jewelry worth $15 million – the big day was also filled with small moments of surprising intimacy. There was Kim's nephew, 20-month-old ring bearer Mason, scoring laughs in a tiny custom tux as he gleefully ran up and down the aisle. And there was Kris, mouthing the words "I love you" to Kim as his family pastor officiated the brief Christian ceremony. After Pastor Joel Johnson declared them husband and wife, Kris put his hands on Kim's waist for a romantic kiss. "I'm such a girl that plans everything out," Kim tells PEOPLE, "and I remember thinking, 'Oh, we forgot to practice the kiss!'"

She needn't have worried. From the poignant "something old" sewn into Kim's dress – a heart-shaped piece of fabric cut from one of her late father Robert Kardashian's signature Tommy Bahama shirts – to the 300 candles lighting up the initials "KK" outside the reception tent, the entire affair "was all so perfect," Kim's sister Kourtney, 32, tells PEOPLE. As the newlyweds walked down the aisle under a shower of white rose petals, "it felt like a fairy tale," says Kim's mom, Kris Jenner, 55. "The whole event unfolded so beautifully I wanted to stop time so I could enjoy each moment over and over again."

Working out the morning of the wedding, "it was hitting me just how fast everything happened," says Humphries. And yet, "I feel like I'm perfect for her and she's perfect for me." For her part, Kim – whose first marriage to music producer Damon Thomas ended in 2004 – praises Kris for the trust she has in him and for "bringing out the fun in me."

Partying inside a massive, 30-ft.-high tent raised over a pool by hydraulic lifts, the group gathered around the dance floor to a live performance of "Angels" by Robin Thicke. Although Kim – who changed into her second Vera Wang gown just before the reception kicked off – had recruited her former Dancing With The Stars partner Mark Ballas to choreograph a routine for them, "when I got out there and saw her dress," says Kris, "I knew that I could not pull off any of the moves that we practiced."

Meanwhile, the nearly 400 guests feasted on truffle pasta whipped up by famed Hollywood chef Wolfgang Puck and marveled at the 6-ft.-tall chocolate chip-studded wedding cake. Along with brief toasts from co-maids-of-honor Kourtney and Khloé, 27 (both of whom playfully drank from a champagne bottle onstage), Bruce Jenner lovingly toasted, "Kimmy, my little angel" and joked of Kris's white tails to black Zegna tuxedo swap, "I see you've learned something from Kim: You have to have wardrobe changes!" When Earth, Wind and Fire took the stage, "I took my shoes off and danced to every song standing atop my chair," says Kris Jenner. "I had a blast."

E! will air wedding footage in a two-part special, Kim's Fairytale Wedding: A Kardashian Event, Oct. 9 and 10.
*Also In This Week's 'PEOPLE'*
-Will & Jada's Marriage Drama: "They Haven't Been In The House Together In A Long, Long Time"
-Rose McGowan: "I Escaped A Cult"
-Zoe Saldana: "I'm Latin – I Enjoy Food!"