'Keeping Up With Kardashians' Season 7 Episode 4 Recap: Kris Amuses With Her X-Rated Grunts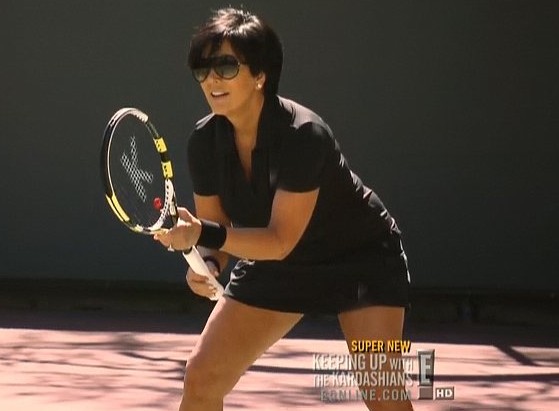 With Kris' eroctic grunts, Bruce's bold moves and Kourtney's bad movie romance; the Kardashians learn that playing together isn't always the best thing to do.
On this week's episode Kris' excitement about playing tennis gets deflated when the family notices that she makes an x-rated noise every time she takes a swing. While Bruce's bold moves to get Kris to manage his son Brandon shows him that family and business don't always mix.
And Kourtney's movie romance turns into a bad romance when Scott tries to channel her favorite romance movie character. 
Not that much drama this week, but Scott stole the show with the "romance in his drawers." Here is the full recap. Let me know your thoughts about the episode down below.
Kris' Tennis Grunts Too Hot For The Court

The episode starts off with Bruce and Kris on the tennis court with Kris' friend. During the session the Kardashian mom reminisces on the fun times she's had playing the game, and decides to get everyone together for some fun family matches.

The momager brings Kim, Kourtney and Mason out for a game, which leads to the girls noticing a sexual grunting sound coming from their mom's mouth every time she takes a swing. "Do you want to hear mom having sex," Kim says embarrassingly.

Kim K is so amused by Kris' grunts that she organizes a family match, and once the playing begins everyone looks around like "what is that noise" including baby Mason.

After some mocking and laughs, Kris storms off the court. The Kardashian mom is so upset that she tells Bruce that she doesn't want to play tennis anymore. But Kim manages to patch things up by gifting her with a fancy racquet and ball.


Bruce Makes A Bold Move To Get Brandon What He Deserves

Bruce makes an aggressive attempt to get Kris to manage his son Brandon's music career. But neither Kris nor Brandon think that it's a good idea to mix family and business.

However, Bruce is very determined to make Brandon apart of the Kardashian "marketing machine" and goes as far as interrupting an important meeting between Kris and Babyface to show the two Brandon's music video.

The bold move works in his favor, and Kris agrees to meet with Brandon to talk about managing him. When the two meet they both agree that it's probably not a good idea and decide to tell Bruce that the stepmomager thing is not going to work.

After Kris and Brandon speak with the Jenner dad, he backs down and lets the two know that he was just trying to get Brandon what he deserves.


Kourtney Yearns For A Movie Romance

Kourtney's pregnancy hormones are kicking in and the mommy-to-be is yearning for a movie romance. "If you want to see romance check in these drawers," Scott says jokingly.

This doesn't fly too well with Kourt who feel like she has to get her romance from watching movies like Titanic. So to appease his long time beau Scott tries everything from proposing to eat salsa off Kourts feet to channeling Ryan Gosling's character from The Notebook.

None of his plans seem to work though and the father-to-be gets frustrated over Kourtney's "out of whack expectations." Scott makes one last attempt to please Kourtney with fresh red roses, a tuxedo and dinner.

At first Kourt insults him, but finally gives in to him and the cold pasta.