Keeping It In The Family: Kanye West Shoots New Video With 'Kardashians' Star Scott Disick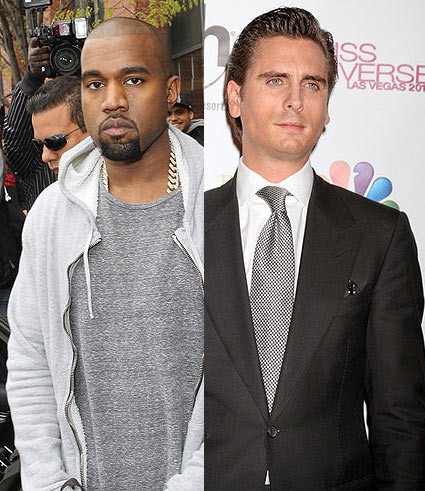 Kanye West is teaming up with (potential) future brother-in-law Scott Disick for a new music video to promote forthcoming album "Yeezus."

The rapper has recruited the Keeping Up With the Kardashians star and girlfriend Kim Kardashian's best friend Jonathan Cheban for the new short, which is based on Christian Bale's creepy movie American Psycho. The video is expected later this week.

"Kanye spent the weekend shooting an 'American Psycho'-inspired video in Brooklyn with Scott Disick and Jonathan, who actually gets killed in the end," a source tells In Touch Weekly.

The rapper had a busy weekend, in addition to celebrating his 36th birthday, Ye performed at New York's Governors Ball on Sunday, debuting new music and telling the crowd that the new album will get little in the way of promotion and that he's no longer interested in getting his music on the radio.

"With this album we ain't drop no single to radio. We ain't got no NBA (big money) campaign, nothing like that. S**t, we ain't even got no cover. We just made some real music," he said during his headlining set.

"[H]onestly at this point when I listen to radio, that ain't where I want to be no more," he added.

The video was shot in Brooklyn, New York, at the Brooklyn Fireproof soundstages, with the intent of getting publicity for the new disc to go viral instead.

"Kanye wants the video to go viral and drum up more publicity for his album," the source tells In Touch.

"Kanye is definitely on edge and nervous about how this album will sell," an industry insider said to the magazine. "He won't promote it the normal way, and he wants to create buzz with all these weird, secret demonstrations."

Disick is the father of Kourtney Kardashian's two children and has proposed to her on a couple occasions, getting turned down both times.