Kazakhstan Government Official: 'I Am Grateful To Borat For Helping Attract Tourists'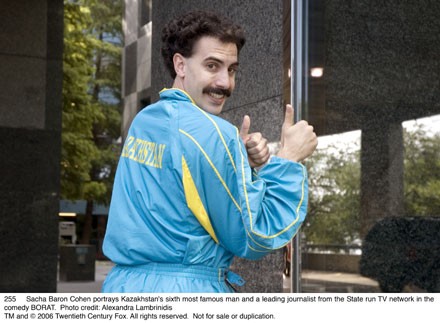 Kazakhstan government officials have thanked British funnyman Sacha Baron Cohen for giving the country a tourism boost with his hit comedy creation Borat.

The comedian lampooned the country in his 2006 movie Borat: Cultural Learnings of America for Make Benefit Glorious Nation of Kazakhstan, which follows fictitious Kazakh journalist Borat Sagdiyev as he travels through the U.S.

Government officials in Kazakhstan were initially very wary of Cohen's creation, launching a public relations campaign to counteract a possible backlash from the film and even threatening to sue the star over a spin-off Borat website he launched.

However, Foreign Minister Yerzhan Kazykhanov has now made a turnaround and thanked the filmmakers for giving the country a tourism boost.

AFP reports he told the Kazakh parliament, "With the release of this film, the number of visas issued by Kazakhstan grew tenfold. I am grateful to Borat for helping attract tourists to Kazakhstan."