Katy Price Impostor Ordered To Keep Distance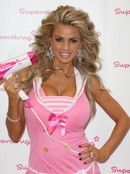 A judge in the U.K. has ordered a transsexual to stay away from Katie Price after she was convicted of fraud for impersonating the British reality TV star.

Kerry Marshall, 18, was charged with six counts of fraud between September and October, 2011 for going into a bank and posing as the star in order to withdraw money from her accounts.

The teenager, who was born a man but is in the process of gender re-assignment, duped cashiers at a branch of HSBC into believing she was Price and withdrew thousands of dollars, which she spent on a sports car and jewelry.

Marshall, formerly known as Tyler Meadows, was arrested in October and admitted six counts of fraud at Lincoln Crown Court in England on Friday.

Judge Sean Morris also imposed a restraining order for life on Marshall, banning her from contacting Price and approaching the star's home.