Katy Perry's New Single, 'Part Of Me', Takes Aim At Russell Brand (Listen!)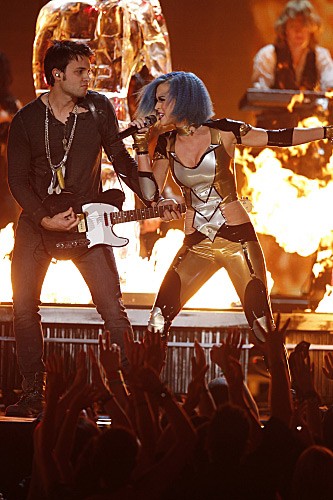 Katy Perry surprised millions at Sunday night's Grammy Awards when she took the stage and belted out the first few lines to her hit single "E.T." before 'technical difficulties' set in and ground the song to a halt. It was all part of the act though, as the pop singer then rocked the crowd with a live performance of her new single, "Part Of Me", off her upcoming March 26 release, "Teenage Dream: The Complete Confection.

As for Katy's Grammy performance - the sexy singer slithered across the stage in a skin-tight catsuit, bouncing her bright blue hair (among other body parts), and belting out lyrics like, "So you can keep the diamond ring / It don't mean nothin' anyway / In fact you can keep everything / Yeah, yeah - except for me."

Perhaps a dig at ex-husband Russell Brand?
What did you think of Katy's performance at the Grammys? Drop us a line below!

Check out "Part Of Me" Below, and if you want you can get the single now at iTunes.