Katy Perry's 'Last Friday Night' Video Features Cameos From Rebecca Black, Deborah Gibson, Corey Feldman & More (Watch It!)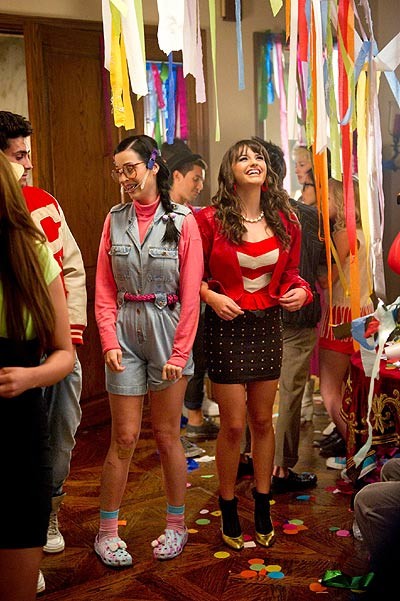 Katy Perry's campy new video for her party anthem "Last Friday Night (T.G.I.F.)" was released online Sunday and made its TV debut Monday evening, and there's no shortage of stars making cameo appearances.

Katy drummed up some buzz for the video by setting up Facebook and Twitter accounts under the name Kathy Beth Terry, a 13-year-old alter-ego who's a geeky student with braces and "likes Sudoku puzzles, the solar system, high school science fairs," and is always wearing her orthodontic headgear.

In the John Hughes-esque clip, Katy wakes up after a party wondering how she ended up in bed with the school hunk and why her entire house is trashed.
While piecing things together, we learn that last Friday night Kathy stopped by Rebecca Black's house to find a rocking party going on. Rebecca invites her in and gives her a makeover which makes her the life of the party (not to mention smoking hot).
Glee's Darren Criss & Kevin McHale are also at the party, Criss in the role of the popular guy and McHale as the geek who's infatuated with Kathy. Next thing you know, Hanson is the house band, Kenny G plays sax solos on the roof and finally Kathy's parents, played by Deborah Gibson & Corey Feldman (who delivers a clever Lost Boys line), return home early from a convention and want to know what happened. Kathy blames Rebecca for the party, after which her father, Kirk, says, "Rebecca Black is a nice girl."

"Yeah, I don't think Rebecca would've started this, honey," adds her mom, Tiffany (get it?).


Check out the video for "Last Friday Night (T.G.I.F.)":