Katy Perry's Dress Looks Like Something Seen Through The Hubble Space Telescope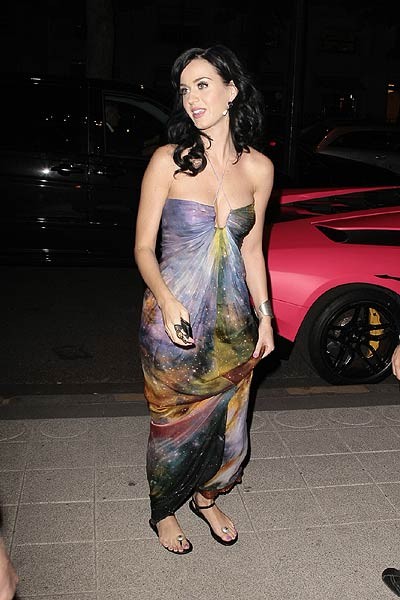 Katy Perry stepped out in Paris, France, yesterday wearing a multicolored maxi dress with a starry night design. She looks like one of the myriad nebulae you'd see through the Hubble Space Telescope, only way closer. It's great to see the pop star in something besides skin-tight latex outfits (1, 2, 3).

Katy's summer pop anthem "California Gurls" currently holds the top spot in charts around the globe, and now she's smashing radio chart records in America. According to Billboard.com, Perry logged 11,816 plays among the survey's 132 panelists for the week ending June 27 - that's an average of 90 plays per station.

Despite her massive musical success, her fiance Russell Brand is convinced Katy will eventually swap music for movies because the singer is a "brilliant" actress.

The "I Kissed A Girl" hitmaker is preparing to make her acting debut by voicing Smurfette in the upcoming big-screen adaptation of classic kids' show "The Smurfs."
(click pic for next)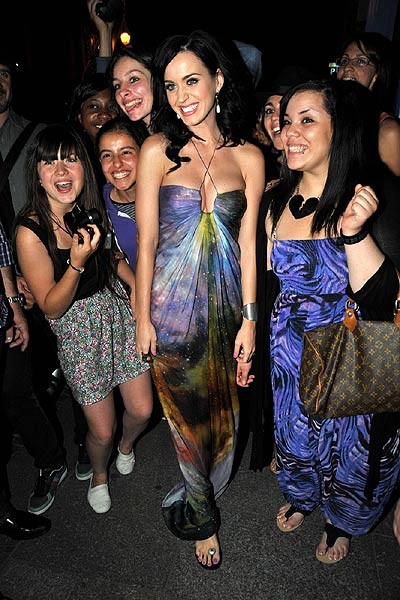 Click the pics for larger images:
- Click here for more Katy Perry pictures! -