Katy Perry's 'Dark Horse' Music Video Edited After Muslim Outrage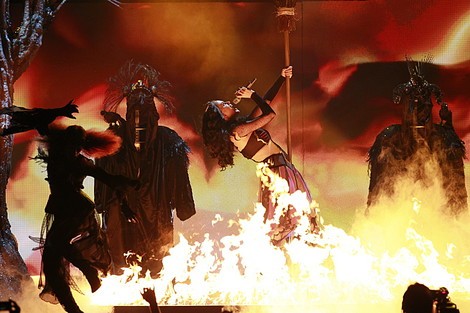 Katy Perry's odd music video for Dark Horse has undergone a slight edit after the Islamic community spoke out over content they deemed blasphemous.
At one point in the video, a man wearing a necklace with the word "Allah" in Arabic is turned to sand by Perry, disintegrating the necklace along with him.
Shazad Iqbal creating a petition to remove the video from YouTube, writing in part, "Such goes to show, that blasphemy is clearly conveyed in the video, since Katy Perry (who appears to be representing an opposition of God) engulfs the believer and the word God in flames."
The petition generated over 65,000 signatures before the video was altered, although it is currently unknown if YouTube, VEVO, or Katy Perry ultimately requested it.
Iqbal updated his petition after the change, writing, Guys I'm thrilled to let you all know the name of Allah has been removed from the 'Dark Horse' video we couldn't have done it without everyone's support so I thank each and every one of you deeply, our voices have been heard! God bless you all."
The music video has been watched almost 40 million times since its release last week.