Katy Perry's Cupcake Trampoline Sells For Thousands At Auction

Katy Perry's cupcake trampoline has helped swell the funds of the Japanese relief effort after it sold for thousands at an online auction.

Bosses at record company EMI raided their storage vaults and asked all artists to donate items for the 10-day eBay.com sale, which ended on Thursday.

French electronic duo Daft Punk offered up their black Ferrari used in the film Electroma, and the sports car went under the hammer for $40,960, while Perry's colorful cupcake trampoline prop - currently in use as a setpiece on her California Dreams tour - fetched $4,966.

But the winning bidder for the pop star's trampoline faces a wait for the odd item - it won't be available until after Perry completes her tour in January, 2012.

Other big items sold on Thursday included a limited edition Beatles Sting-Ray bicycle, which featured animation from Yellow Submarine. That sold for $3,280. And one Dean Martin fan paid $1,473 for the chance to record a duet with Dino at the legendary Capitol Studios.

Signed guitars donated by Norah Jones and Willie Nelson, and David Bowie and Duran Duran memorabilia also went under the hammer.

All proceeds from the online auction will benefit earthquake/tsunami relief charities in Japan.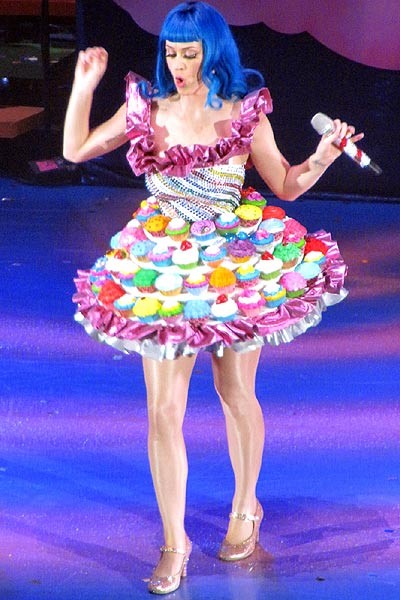 Click for more great Katy Perry pictures: