Katy Perry's Bodacious Blue Hair - Hot Or Not?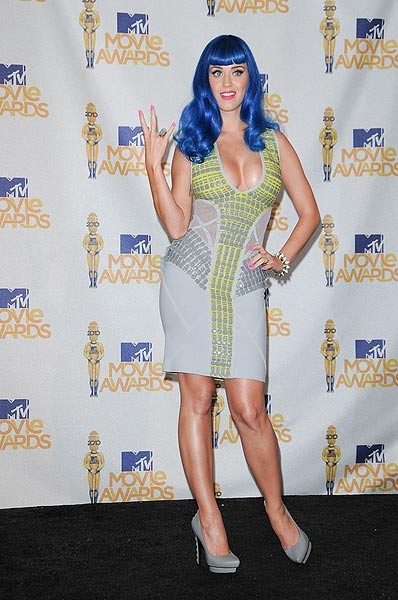 Katy Perry was full of sex appeal at last night's MTV Movie Awards. She blew away other red carpet stars in two sensuous dresses. First, she sparkled in a super short silver and nude mini dress. We don't know where the dress starts and the skin stops!

She also wore a gray and green skintight gown that revealed quite a bit of her voluptuous figure. Oh, and did we mention she donned a blue wig? (And looked totally hot with it -ed.)

The pop star recently "threatened" to get pregnant in order to slow down her work schedule. She is struggling to cope with her hectic work life and insists she could scrap plans for a promotional tour by having a baby with fiancé Russell Brand. She explained to Britain's The Sun, "I've told them (label) not to p**s me off and if they continue to push me harder, I'll just get pregnant. I have the power to have unprotected sex!"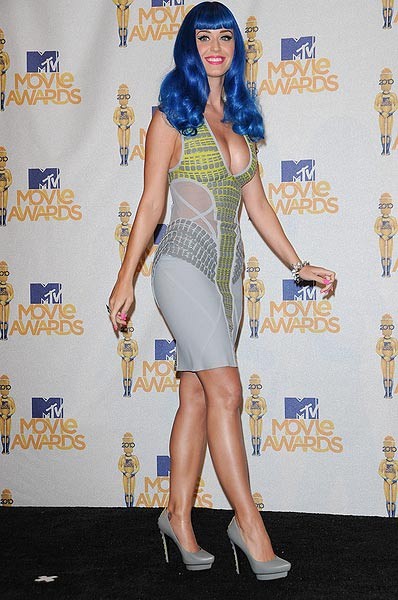 ^ click for next image ^
Click the pics for larger images:
- Click here for more Katy Perry pictures! -