Katy Perry To Cameo On 'The Young And The Restless'

Singer
Katy Perry
will be making her acting debut on the #1 rated daytime drama
The Young And The Restless
, which airs on Thursday, June 12. Katy plays herself at a photo shoot, where she poses as the cover girl for the second issue of
Restless Style
magazine.
She appears opposite Nicholas and Phyllis Newman (
Joshua Morrow
and
Michelle Stafford
), along with Jack and Sharon Abbott (Peter Bergman and
Sharon Case
). Katy's "I Kissed a Girl" is currently the #2 single on iTunes and holds the #1 ranking for pop singles. Katy's debut album
One of the Boys
hits shelves on June 17th. For more information and behind-the-scenes footage, log onto
RestlessStyle.com
starting June 12.
"The Young And The Restless" has been the #1 rated daytime drama for more than 19 years and celebrated its 35th anniversary on March 26, 2008. The series is nominated for 17 2008 Daytime Emmy Awards, more than any other show, including Outstanding Drama Series. The show is broadcast weekdays (12:30-1:30 PM (ET); 11:00 AM-12:00 Noon (PT)) on the CBS Television Network and is produced by Bell Dramatic Serial Company, in association with Sony Pictures Television.
'One of the Boys' out June 17!
Watch video feature:
ROOPLAYER Music%20News 926022 ROOPLAYER
More Katy:
Starpulse Page
Official Site
MySpace Page
-
Watch the video for "I Kissed A Girl"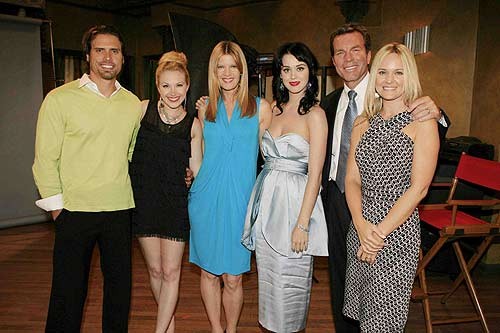 Photo credits:
Katy Perry with cast (L - R): Joshua Morrow, Adrienne Frantz, Michelle Stafford, Katy Perry,
Peter Bergman, Sharon Case
Courtesy JPIStudios.com
Top photo: Katy Perry on set (L - R): Michelle Stafford, Joshua Morrow, Katy Perry
Courtesy JPIStudios.com