Katy Perry Sings Rebecca Black's 'Friday' (Watch Video!) & Goes Full Nerd For 'Last Friday Night' Remix Cover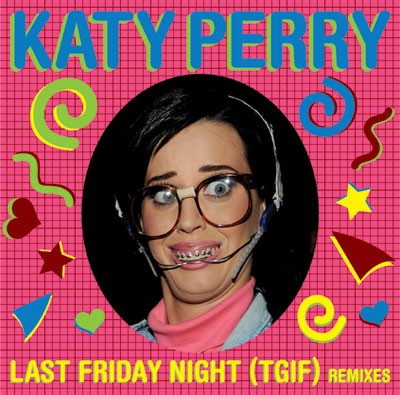 The usually sexy Katy Perry is shedding her image in the name of art. Check out the cover art for her new disc of remixes for "Teenage Dream" single "Last Friday Night (T.G.I.F.)." 
What do you think of her Urkel-inspired look?
Katy recently told The Sunday Times Magazine she quit searching for stories about herself on the internet after she read about husband Russell Brand's planned marriage proposal before he'd popped the question.
She explained, "I don't read papers. I don't even look at reviews. I have a good team around me so if anything pops up that's really good or bad I'll know about it. Generally I feel much better being able to live my life like a normal person and not read yesterday's news."
Click for more great Katy Perry pictures: