Katy Perry, Selena Gomez & More Get Leggy On The Red Carpet At Nickelodeon's 25th Annual Kids' Choice Awards (See Pics & Full List Of Winners)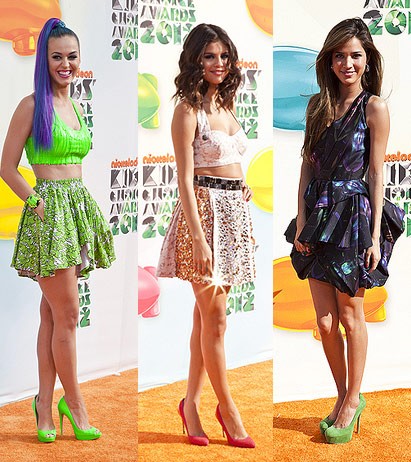 Mega-stars including Katy Perry, Tim Tebow, Taylor Lautner, Big Time Rush, Selena Gomez, Kristen Stewart, LMFAO and Justin Bieber reigned as this year's favorites, winning top honors at Nickelodeon's 25th Annual Kids' Choice Awards live telecast, Saturday, March 31, 8-9:30 p.m. (ET/tape delayed for West Coast).

Hosted by international superstar, and 10-time KCA winner Will Smith, the awards were broadcast from the Galen Center at USC in Los Angeles where kids' top choices in television, movies, music and sports were revealed through a flying blimp, silver robot and sword swallower. Smith made an aerial entrance onto the venue by parachuting down from the official KCA blimp, a 246-foot orange airship situated above the arena. After rappelling to the stage and deactivating a booby trap set by a mysterious Creepy Voice determined to stop the show, Smith kicked off the silver anniversary celebration with a performance of "Can U Handle This" and balloons filled with confetti and slime.

First Lady Michelle Obama made her first-ever appearance at Nickelodeon's Kids' Choice Awards, presenting Grammy Award-winning singer/songwriter Taylor Swift with this year's The Big Help Award in recognition of her extensive philanthropic endeavors, including her work with tornado and flood survivors in the United States. The Big Help Award recognizes individuals who take actions to better the world and whose significant impact on their community has inspired kids to do the same.

The following are Nickelodeon's 25th Annual Kids' Choice Awards winners:

TELEVISION:

Favorite TV Show
Victorious

Favorite Reality Show
Wipeout

Favorite TV Actor
Jake Short (A.N.T. Farm)

Favorite TV Actress
Selena Gomez (Wizards of Waverly Place)

Funniest TV Sidekick
Jennette McCurdy (iCarly)

Favorite Cartoon
SpongeBob SquarePants


SPORTS:

Favorite Male Athlete
Tim Tebow

Favorite Female Athlete
Danica Patrick


FILM:

Favorite Movie

Alvin and the Chipmunks: Chipwrecked
Favorite Movie Actor
Adam Sandler (Jack & Jill)

Favorite Movie Actress
Kristen Stewart (The Twilight Saga: Breaking Dawn, Part 1)

Favorite Animated Movie
Puss in Boots

Favorite Voice from an Animated Movie
Katy Perry (The Smurfs)


MUSIC:

Favorite Music Group
Big Time Rush

Favorite Male Singer
Justin Bieber

Favorite Female Singer
Selena Gomez

Favorite Song
"Party Rock Anthem" (by LMFAO)


OTHER CATEGORIES:

Favorite Book
Diary of a Wimpy Kid series

Favorite Videogame
Just Dance 3

Favorite Buttkicker
Taylor Lautner



See more pics and read more about the 2012 Kids Choice Awards on the next page...