Katy Perry 'Planks' On Boat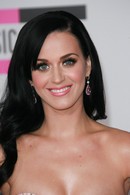 Katy Perry has become the latest star to join the internet 'planking' craze by posing for a picture balanced on the roof of a boat.

The controversial game sees participants taking photographs of themselves lying still like a plank of wood at unusual locations and it has taken the web by storm in recent months. R&B star Chris Brown joined in last week by publishing a picture of himself stretched out on top of a round shelving unit.

Perry has now followed suit by posting a picture on Twitter.com showing her wearing a bikini top and shorts, lying face down with her arms and legs outstretched on top of a boat.

The picture was taken during her Independence Day celebrations on Monday and was captioned, "Planking on the 4th."

Hollywood actress Demi Moore was also considering 'planking' on Independence Day, writing in a post on Twitter, "Happy Independence Day!... Now if I could just find a place to go planking!"