Katy Perry, Nicki Minaj & Other Stars Dress As Pin-Up Girls For 'Salute The Troops' Promo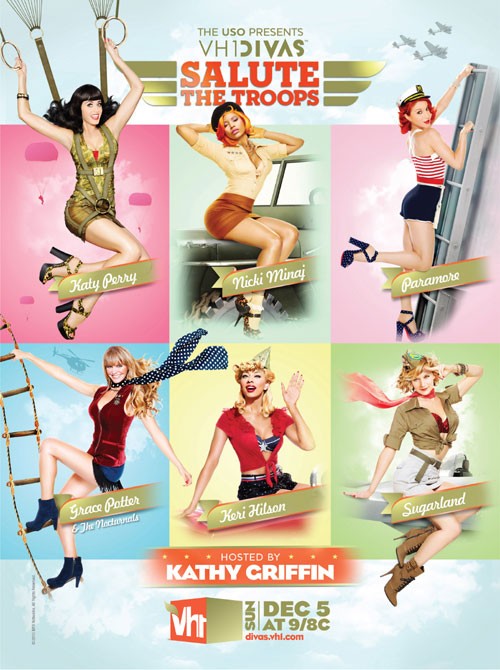 VH1 and the USO have joined forces for an unforgettable night of entertainment to celebrate and honor our troops.  

VH1's Divas franchise, highlighting talented songstresses since 1998, will be coming back for another iconic event for those that have served our country by performing at the MCAS Miramar and at various military bases in the Middle East.  

Filling out the roster will be Katy Perry, Nicki Minaj, Paramore, Keri Hilson, Sugarland, and Grace Potter and the Nocturnals.  These women will be belting out their appreciation for the Armed Forces at the concert premiering Sunday, December 5th at 9 PM ET/PT on VH1.  

Hosting this spectacular event will be the legendary comedienne Kathy Griffin.  The USO Presents "VH1 Divas Salute The Troops," featuring some of the country's most acclaimed singers, will be a night to go down in history as VH1 and the USO come together for the first time for such a distinguished celebration to commemorate the courage of those serving our nation.