Katy Perry & Madonna Get Very Provocative In Sexy V Magazine Shoot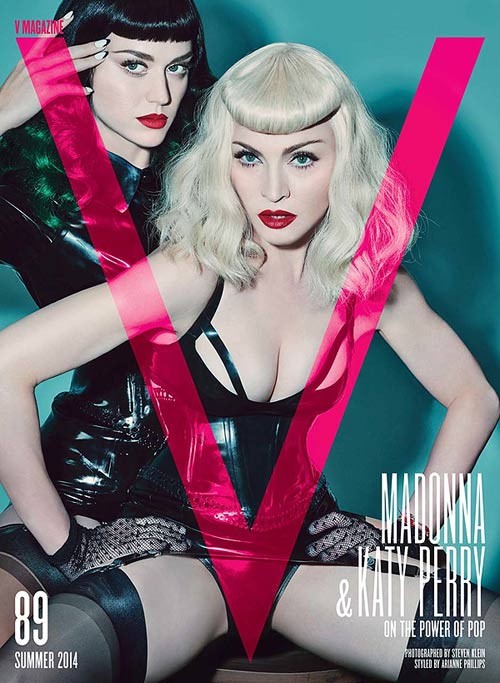 Two ladies representing pop music old & new joined forces for the cover of the June issue of V Magazine, which hit newsstands on Memorial Day Weekend.

Katy Perry and Madonna pose provocatively in a series of images that are part Bettie Page, part dominatrix inspired. Ironically it's Madge, 55, who bears her cleavage on the cover, while Katy, 29, sits behind covered up.

Tied up, wearing lingerie and in matching dresses, the duo discussed their cover shoot, vitamin b12 shots and and how far they've been willing to go with their respective acts.

"I was sore in my upper body and in my butt area from all that squatting," Perry says of the duo's shoot.

"It's good to be sore in your butt," said Madonna. "My neck is sore from that wonderful moment when I was sucking on your heel."

Madge's comment refers to one of the many bondage-inspired shots, which leads to a discussion of provocative showmanship.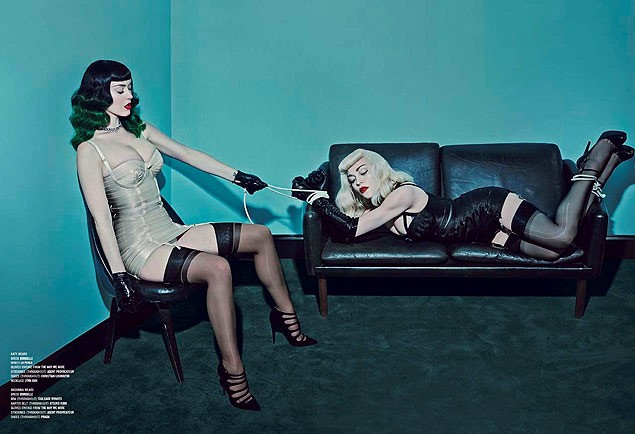 The pop queen mentioned how far she's been willing to go with her act -- some place the pop princess may be willing to go in the future.

"I would always say, 'Dad, I'm an artist, I have to express myself. You don't understand,'" Madonna says. "I think he's finally come to terms with it. It's only taken 30 years.

"He's like, Do you have to simulate masturbation on the bed? Do you have to? Yes, Dad, I do.

Katy simply added, "I haven't gone that far yet, but maybe under your great mentorship I might reach that point."

The two stars also discussed the vitamin b12, which Madonna self-injects.

"Madonna and Katy Perry shoot up! Yeah!" Katy jokes; while Madge revealed her technique.

"What you do is just turn. I put my knee up on a chair and put all my weight onto the leg I'm not shooting it into and squeeze the [fat] together so that it goes into the fatty tissue."

Check out more of Madonna and Katy Perry in the June V Magazine and at V Magazine.com.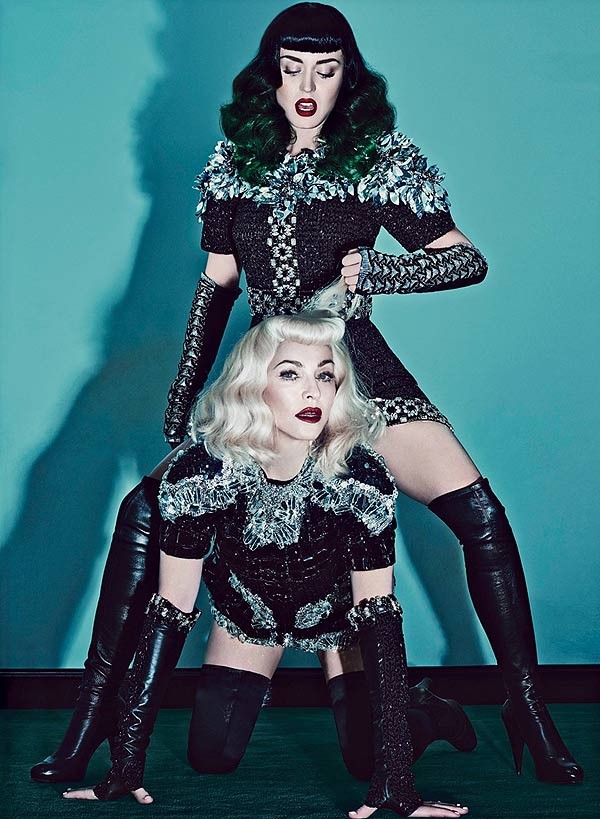 Check out some of the sexiest celebritie selfies from the past two weeks below...