Katy Perry & Lily Allen Talk Beatles, Autistic Artist Stephen Wiltshire, KSM's Latest; More (Videos)

Watch some videos, music videos and clips of the latest funny, informative, viral, and other time-wasting stuff that we gathered from around the web today. Today's feature video is from
KSM
, who just released their latest single, "Read Between The Lines". Check 'em all out!
Katy Perry
and
Lily Allen
talk about the
Beatles
influence on their careers...
Katy Perry


Lilly Allen


The All-American Rejects
got busy in New York City this week starting off with a special performance of their hit single "Gives You Hell." They took the stage with house band
Wale
at MTV's VMAs show where front man Tyson Ritter debuted a new glittery look. After rocking the proverbial house, Ritter caught up with MTV news and confirmed the long standing rumor that he will in fact be teaming up with pop powerhouse
Rihanna
for a yet to be recorded track. With AAR's stock rising by the day, it only made sense for the quartet to cap their week by ringing the opening bell for the New York Stock Exchange.
The All-American Rejects' album
When The World Comes Down
featuring "Gives You Hell" and "I Wanna" is in stores now.
"Gives You Hell":


The brand new "
Wallace & Gromit: A Matter of Loaf and Death
" hits DVD Tuesday, September 22. Winner of the Short Animation 2008 British Academy Film Award, this all new adventure features all of the classic ingredients of a great murder mystery – suspicion, rivalry, love, intrigue and heroism – and is topped off with a large helping of loyalty and friendship, cooking up all you "knead" for fun family viewing!
Be sure to check out these two new clips from the much anticipated "A Matter of Loaf and Death" DVD!
Clip – "Morning"


Clip – "Romance"


Check out the first look at
Jason Mraz
's upcoming live CD/DVD, "Jason Mraz's Beautiful Mess-Live On Earth" "Jason Mraz's Beautiful Mess - Live On Earth," will be available Nov. 10. For more information, visit
www.jasonmraz.com
....
Brand New
, who will release "Daisy" on September 22, are slowly starting to get fans amped up for their new album by releasing videos from the "Daisy Studio Sessions". With rehearsals and jam sessions being outside of the norm for Brand New the footage from the "Daisy Studio Sessions" becomes that much more special. "Sowing Season" has been stripped down, re-imagined and reinvented in this beautiful acoustic version.
Brand New - From The Daisy Studio Sessions "Sowing Season" Video:


Stephen Wiltshire, from London, is an autistic artist with a photograpic memory. When he was 11 he was taken on a helicopter ride over London and afterward drew the entire city in near perfect detail. This time, years later, he's being flown over Rome for the first time. Watch him draw the city afterward in just three days. Un. Be. Lievable....
Beautiful Minds: Stephen Wiltshire


Ash
's new song "True Love 1980," which comes out Oct 12 and marks the beginning of their A-Z Series ("True Love 1980" is "A") As, the A-Z series is Ash's collection of 26 limited edition 7" and digital download singles, released every two weeks over the coming year.
"True Love 1980" Video


KSM recently performed on the popular web series "I <3 Vampires" as a band called Vagablond! The girls rocked the stage with their single "Read Between The Lines." This is the title track off their debut album which is available on iTunes now; and they just released the song's official video, check it out:
"Read Between The Lines":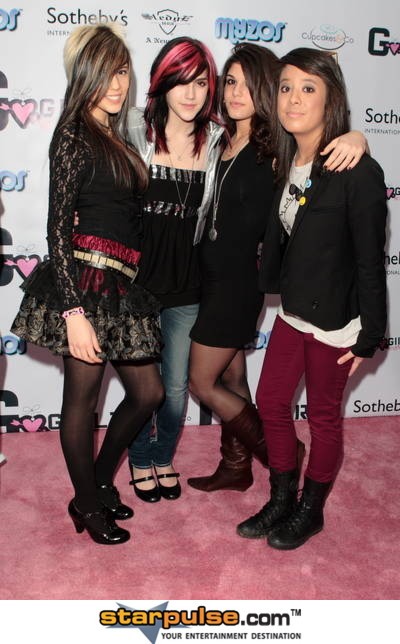 Image © Tina Gill / PR Photos