Katy Perry, Lady Gaga & Now Ke$ha: Female Pop Stars Are Coy About Their 'Bisexuality'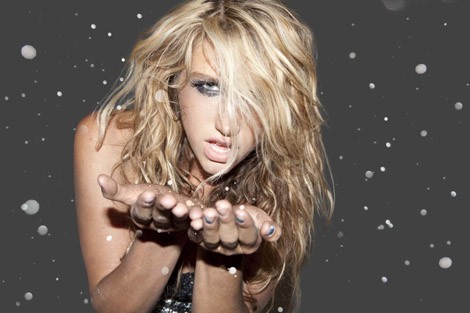 Up and comer
Ke$ha
just set a download record for her single "Tik Tok," which sold 610,000 copies last week. It was the biggest selling single week of a song ever by a female artist. The previous record holder for a female artist was
Lady Gaga
's hit "Just Dance," which sold 419,000 in one week. What a coincidence that both have talked about or alluded to being bisexual.
Ke$ha recently told Out.com, "I like people. I wouldn't say I'm gay or straight - I don't like labeling things anyway. I just like people." So why not come out and say it? Is she afraid to be labeled a lesbian? Nah. Sex sells, and she knows it - or at least her management does. Don't let the public know the truth (that you're straight) because God forbid, that would make you boring and like every other aspiring artist out there.
Oh, wait. Isn't everyone "coming out" these days anyway? Didn't
Katy Perry
capitalize on her sexuality with her hit "I Kissed A Girl" even though she isn't gay? Fans later learned she's not bisexual, but the fantasy was enough. The thought of the sexy brunette making out with another woman already made its imprint on the pop loving public.
Conversely, remember the group
T.A.T.U
? The Russian duo was openly lesbian, but guess what? They fizzled. Perhaps if they claimed to be bisexuals instead they might have been more successful.
You record execs certainly know what you're doing. But we're sick of being duped. And we're insulted that every female pop star that breaks through has to be identified as being bisexual. Next thing you know
Britney Spears
will be talking about how she liked women all along but didn't want the world to know until now.
Have you heard about Estonian pop star
Kerli
? Probably not, but then she hasn't announced her attraction to women yet. The pop princess, who is signed to Island Def Jam Records, is working on a follow up to her debut album "Love Is Dead." Kerli hasn't caught on in America yet, although she just slammed Lady Gaga for copying her look on New Year's Eve. In an f-bomb rant on her official MySpace blog she wrote, "I wish she would f--ing stop ripping off everything I do." You read it here first - Kerli will have a media blitz when her new album comes out, and when asked about her sex life she'll respond in a coy voice, "It's not the gender you fall in love with, it's the person."
The world loves "bisexual" females but is horrified by gay men like
Adam Lambert
. The
American Idol
star's sexually charged performance at November's American Music Awards shocked and dismayed viewers. He later said if it had been a female pop performer doing those moves there wouldn't be nearly as much of an outrage. "I think it's because I'm a gay male," he stated.
Well, duh. This has been going on for a while. Remember the Madonna, Britney Spears and
Christina Aguilera
kiss at the Video Music Awards in 2003? It was obviously meant to shock, and it worked. People still talk about it. But we won't ever see
Justin Timberlake
swap spit with one of the
Jonas Brothers
.
Can't these women get by on talent alone? Whether they're gay, straight or bisexual, does it really matter? Shouldn't the music speak for itself? Why do they need to be identified by their sexual orientation - or imagined one?
Not too long ago pop stars got by on talent first and later announced (or were outed) by the media. These days it seems that many women are valued by their sexual preference first and their talent second. What do you think? Leave a comment below!
Adam Lambert kisses his keyboardist at the AMAs. Gasp! How horrifying!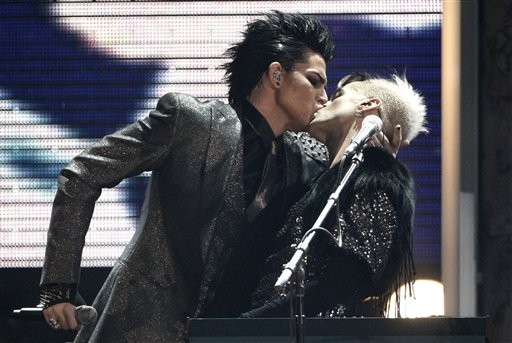 Image © AP Photos
But THIS kiss between Madonna & Britney is considered hot!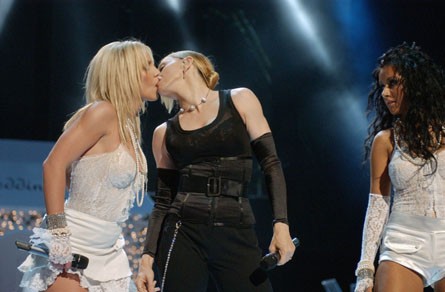 Image © MTV Networks
Kerli - Will She Be The Next Bisexual Pop Princess?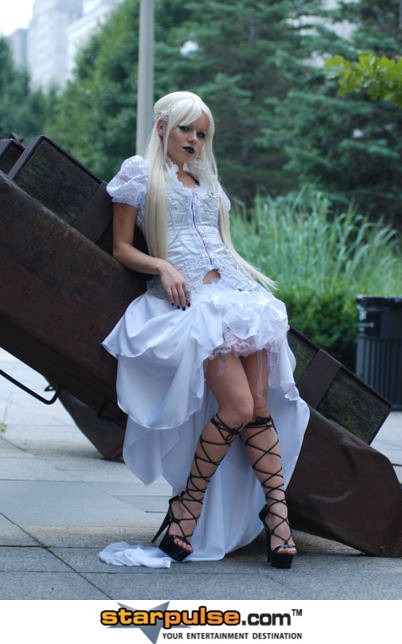 Image © PR Photos
Story by
Noelle Talmon
Starpulse.com contributing writer