Katy Perry: 'I Never Wanted To Be Famous'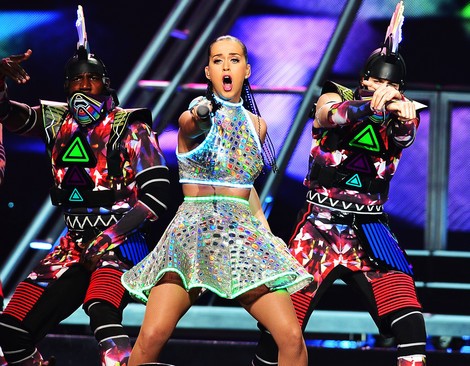 Katy Perry thinks fame is disgusting and an unfortunate byproduct of her singing career.
In a recent interview with Rolling Stone, the singer laments the fact her personal life is covered so often in the media, especially when the stories have little or nothing to do with her singing career. She tells the magazine, "I never wanted to be famous. That's a byproduct of what I do. Fame is truly a byproduct of the dream that I had. People want to be recognized for their work, but nobody wants to be famous for nothing. Fame is, I think, disgusting. And it's really hard to separate your public life from your personal life. Useless fame is disgusting."
She added, "I think if you've got a talent or something to offer, a creative thing to offer to the world, then I think that's beautiful. But that famous for nothing thing is kind of gross. It's a bummer. And, you know, I only ever just wanted to make music and be on stage and play, and offer up my perception of how I view the world, through the songs that I write. But then there's a lot of different things that come with it, and I call them trade-offs."
While Perry isn't a huge fan of fame, she does find herself attracted to musicians and men who understand the type of scrutiny fame brings to one's life. "I've [tried dating don-famous guys] before. It's not that they have to be famous, although there's a level of understanding when they're in the same business, you know? ... And what I really like is someone that understands music, because I love music. So anybody that understands the power of music, I'm usually instantly attracted to."
You can read Katy's full interview with Rolling Stone here and see her on the cover of the upcoming issue.