Katy Perry Gushes About John Mayer, Says She's Not Ready For Kids Yet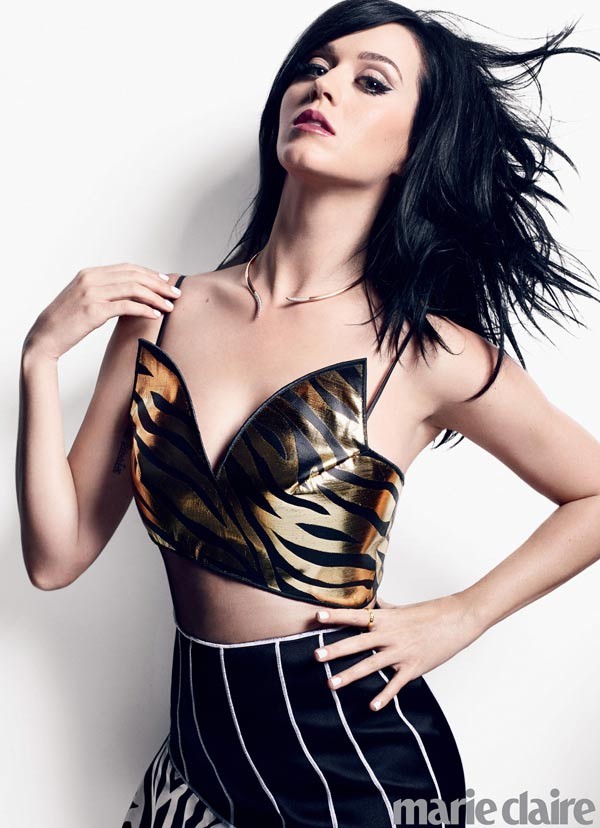 Katy Perry is featured on the cover of Marie Claire magazine's January issue, and in it the singer dishes on boyfriend John Mayer, ex-husband Russell Brand, and having kids.

Katy reveals that things got pretty dark after her marriage to Brand ended and that she actually split from Mayer briefly to tie up some loose ends created from her time with the British comedian.

"There were two weeks of my life after I found out the truth of my marriage where I was like, 'OK. All right. I can't feel this. This is too intense right now,'" she says. "I was, like, just eating Flamin' Hot Cheetos and drinking, and that's it."

Soon after she started dating Mayer, but called things off.

"I took a break from my boyfriend, not one that I wanted. It was like a splash of cold water to search inward on what was going on with me. That is what let me to this new awakening, this realizing, If I don't do some self-love, I'm not going to be able to keep the love that I want," she explains. "I still needed to deal with all of my ex-husband stuff. I hadn't. It's almost like if I kept talking about it, it would seem like I actually cared about it. I don't.

But now things with Mayer are better than ever.

"He's just a fantastic partner. I've been a fan of his for such a long time. He's got a brilliant, brilliant mind. It's a rad, mature relationship," she says.

The couple has only been dating for a little over a year (on and off), and Katy's even ready to talk childen, explaining that she wants them, but not anytime soon.

"I'm definitely not there yet, and I can't plan that far in advance. When I decide to have a family, I'll just want to be Mom for a little bit.[Brand] really wanted me to have children, and I knew I wasn't ready - I think it was a way of control. I think it was part of, If I have a kid, then I would have to sacrifice - I'd have to be home more," she says.

"I really wanted to, but I knew I wasn't ready for it. It wasn't like, 'Hey, let's have a kid because we're in love."

Check out more of Katy Perry and read her full interview in the January issue of Marie Claire magazine, on newsstands everywhere December 17th.