Katy Perry Goes Redhead For France's L'Officiel Magazine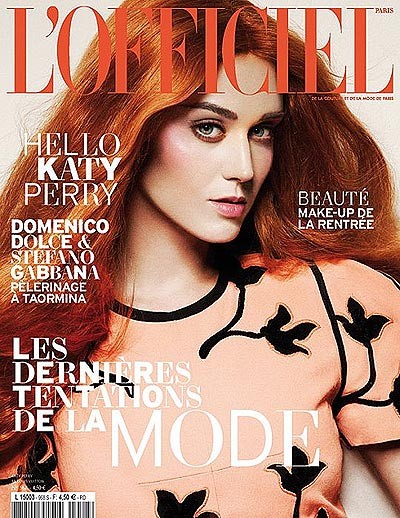 Katy Perry is no stranger to hair dyes -- in the past she's shown off pink, blue, blonde and purple in addition to her natural black locks; and now she's got a new one as she gone redhead for the September issue of France's L'Officiel magazine.

The sexy singer proves she looks amazing no matter which color of the rainbow she's currently coiffed with.

Katy's been suffering from a broken heart lately after John Mayer decided to end the pair's relationship with an email last week. UsWeekly revealed that John apparently got tired of Katy's partying ways and "decided to pull the plug".

Katy was reportedly upset by the move and despite only dating for a couple of months she was really into him.

On a lighter note, she was offered a very lucrative, $20 million deal to join the cast of American Idol, but she turned the offer down because of her schedule.

She did cheer up a little last weekend though with a visit to the house of mouse. She was spotted at Disneyland in California, taking out her anger shooting down spaceships on the Buzz Lightyear ride with a friend.

Katy also hit the bars in Santa Monica last Friday night wearing a very revealing outfit (see pics here).