Katy Perry Drops New Video, 'This Is How We Do,' Talks Stage Costumes & Motherhood With Rolling Stone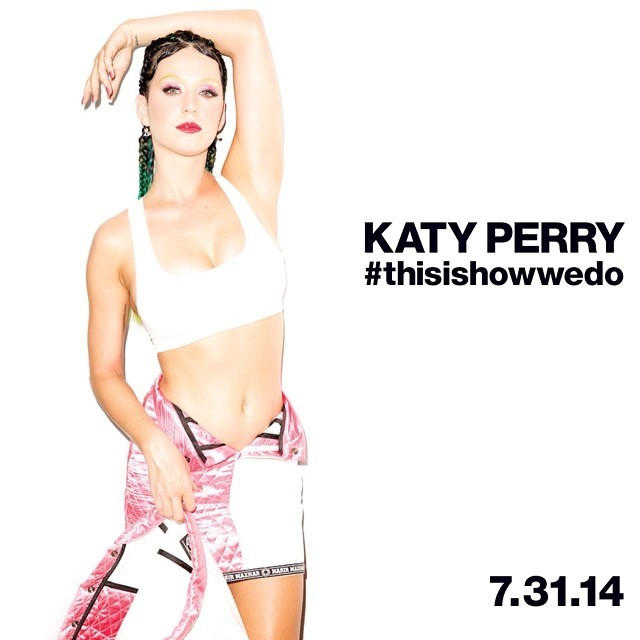 Katy Perry just released her latest video, "This Is How We Do," from her Platinum-selling album "Prism," which features the singer singing and dancing with animated fruits and desserts, along with bathing in a tub of pearls.

The singer is featured in the latest issue of Rolling Stone magazine, where she discussed the controversial stage outfits her dancers wear, which some have deemed to be "culturally insensitive."

Katy defended the use of the costumes, saying that they're a social commentary on the amount of plastic surgery going on in the world right now.

"As far as the mummy thing, I based it on plastic surgery," the 29-year-old tells Rolling Stone.

"Look at someone like Kim Kardashian or Ice-T's wife, Coco. Those girls aren't African-American," she adds. "But it's actually a representation of our culture wanting to be plastic, and that's why there's bandages and it's mummies. I thought that would really correlate well together."

Katy says that if there was anything "bad" about the idea for the costumes that she wouldn't have used them in the first place.

"I guess I'll just stick to baseball and hot dogs, and that's it," she says of appeasing the sensitivies of everyone. "I know that's a quote that's gonna come to f--k me in the a--, but can't you appreciate a culture? I guess, like, everybody has to stay in their lane? I don't know."

Katy also discussed her desire for kids in the future, saying that if she has to, she'll go it alone.

"I want to be doing that in the right time and that's not in the next two years, you know?" she says. "Maybe it's in a five-year plan, but I need to really be able to focus 100 percent of my attention on it. I don't really want to take the child on tour. Not until, like, birth through five is over."

Perry also says that when she's ready she's sure she won't "need a dude" to do it.

"It's 2014! We are living in the future; we don't need anything. I don't think I'll have to (be a single mom), but we'll see.

"I'm not anti-men. I love men. But there is an option if someone doesn't present himself."

Check out Katy's full interview in the new Rolling Stone, and watch her latest video, "This Is How We Do" below...