Katy Perry Doesn't Look Like Katy Perry On The March Issue Of Interview Magazine (Pics)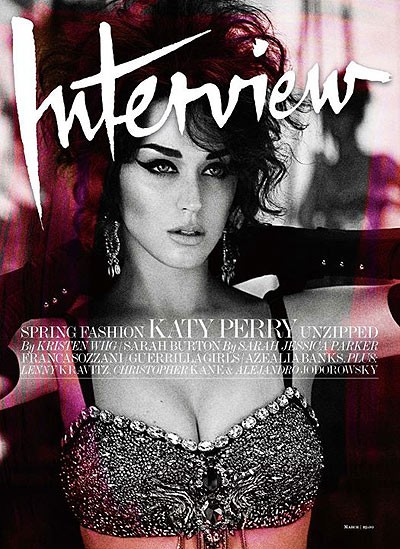 Katy Perry looks a bit different than usual in her recent photo shoot for Interview Magazine - she almost looks like Elizabeth Taylor or even a little like Amy Winehouse in the new photos.

The superstar pop singer is interviewed by Saturday Night Live & Bridesmaids star Kristen Wiig in the new issue, and the two stars discuss everything about Katy's career - from her early beginnings and musical influences to her work ethic and what to expect from her next album.

"I wasn't allowed to listen to a lot of music growing up," says Katy. "It wasn't until I started to make my gospel record when I was around 14 or 15 that I started to be exposed to more outside influences. Before that, I was actually really into Christian music."

But as her "world got bigger" she began listening to other stuff and credits Queen, the Beatles' "White Album" and The Beach Boys' "Pet Sounds" as some of her early influences before listening to the likes of Carole King and Joni Mitchell.

"And then I got into more electronic music. But I'm just open to everything these days," she adds.

Katy's biggest influences, though, include Alanis Morissette's classic album "Jagged Little Pill" and Fiona Apple's "Tidal".

"My favorite record is a Patty Griffin record that I discovered while I was in Nashville called 'Flaming Red'... That's my all-time favorite female record—that and the Fiona Apple 'Criminal' one," she says.

The two also discuss Katy's rise to stardom and how she got there, and the singer says that hard work is what got her where she is today.

"I feel like I give a lot—and I'm not talking about in a numbers sense or a money sense, even though that is there," she says. "I feel like I give a lot of energy and do a lot of work.

"My job is for the people. It's for the public. It's for their consumption. So I've done a lot in that way, and I see that the hard work has finally paid off. It has taken a long time—and I feel like I've earned a lot of it—but the stars have aligned for me in some ways."

So what's next for Katy?

"I've been thinking about my future and what the next move is in terms of what I need to do. I think it would be pretty stupid to try and redo this last record that had all of this success . . . Maybe it's time to do something that's different that can't be compared."
Check out Kristen Wiig's fantastic interview with Katy Perry at Interviewmagazine.com!