Katy Perry Debuts Bizarre Music Video For 'Dark Horse'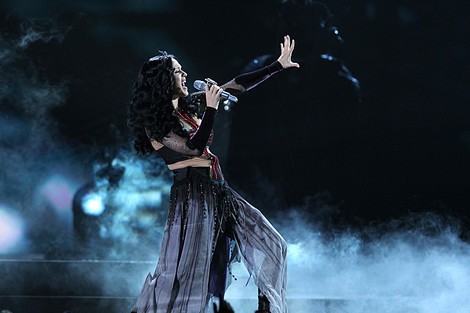 The music video for Katy Perry's hit "Dark Horse" is out, and it's... weird.
The video has an Ancient Egyptian flair, with Perry serving as the Pharaoh considering gifts brought to her from different suitors. At her side are bright blue guards and women wearing feline headpieces.
It seems the gifts brought before her, including giant diamonds and a pyramid made out of Twinkies, aren't enough for Katy - because she ends up turning all of the men into sand.
Katy previously said the song was a warning to men. She told MTV in 2013, "It's kind of juxtaposition. It's got me, a pop artist, with a little bit of an urban kind of hip-hop-flavored background soundtrack to it, and the lyrics are kind of witchy and dark, as if I was a witch warning this man not to fall in love with me, and if you do know I'm going to be your last."
It seems to have worked, as "Dark Horse" has held the top spot on the Billboard Top 100 for the past four weeks.