Katy Perry And John Mayer's Shocking Split - What Went Wrong?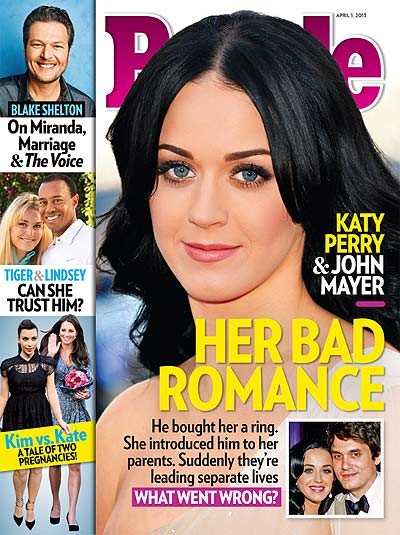 After several months Katy Perry and John Mayer's once-hot romance may have cooled. This week's issue of PEOPLE examines what may have gone wrong with the singers who got so serious, so fast. Have his jealousy and her career come between them? Following seven months jam-packed with relationship milestones – meeting the parents! house-hunting! a ring! – the once-inseparable couple have been spending time apart in L.A., showing signs that their romantic fireworks have flamed out.

While reps for Mayer, 35, and Perry, 28, had no comment when asked about the pair's split, Perry may have said enough on Twitter. After gushing on March 2 during a getaway to Montana that "my boyfriend is taking me to a kitten shelter in his truck. I can't think of a more perfect Saturday," she was singing a very different tune on March 15. "Perfectly put, by Daughter," Perry tweeted with a link to the indie-rock group's single "Landfill," which includes the lyrics, "Throw me in a landfill/ Don't think about the consequences…I want you so much, But I hate your guts I hate you."

Of course, Mayer has earned a reputation as Hollywood's most outspoken heartbreaker, with a string of on-again, off-again romances with A-list women and a history of comparing his ex Jessica Simpson to "sexual napalm" and unwisely addressing his relationship with Jennifer Aniston in an impromptu press conference outside his Manhattan apartment. So when friends found out last summer that Perry had set her sights on him, worry set in. "It's like wanting to find a solid guy and going to a meat-market bar to find him," says the Perry pal.

Perry confessed through tears in her concert movie Katy Perry: Part of Me that her perfect partner is someone who "won't be threatened or have weird motives," hinting that her soaring success was a cause of friction with ex-husband Russell Brand, with whom she had a 14-month marriage. Some say the same tensions rose between Perry and Mayer. "He's very defensive and comes across as extremely jealous of her career," says one Perry insider. "He's basically using Katy, who fits into his plan to stay in the spotlight right now," a source adds of Mayer, who has been recovering from vocal granuloma surgeries and retreating to Montana while on vocal rest for the past year. "His whole moving-to-Montana stint didn't get him the attention he wanted, and he has been going a bit crazy not being able to sing because of his vocal illness." (A rep for Mayer had no comment.)

Perry is now behaving in the same way she did when her marriage to Brand ended. Surrounding herself with only her closest circle of friends, "she gets really withdrawn when there's a change in a relationship," says a Perry pal. "It would be all 'Russell this' and 'Russell that.' Then she suddenly stopped talking about him. That's what has happened with John. She used to say things like 'John's working on new music.' [Recently] she didn't mention him at all."

As for fulfilling her own dream of finding Mr. Right, "Katy would eventually like to settle down again," says the pal. "She is worried about getting older, which sounds ridiculous considering she's 28. But she does think about the long-term plans of marriage and babies."

Read more on Katy Perry and John Mayer in the 4/1/13 issue of PEOPLE, on newsstands now.


*Also In This Week's 'People'*
Bindi Irwin At 14: "My Dad Was My Own Living, Breathing Superhero"
Tiger Woods & Lindsey Vonn: We're Dating
Blake Shelton Says Usher & Shakira "Came Out Swinging"
Vanessa Hudgens: "I'm A Foodie With A Bottomless Stomach"