Katrina Bowden Sizzles In The January/February Maxim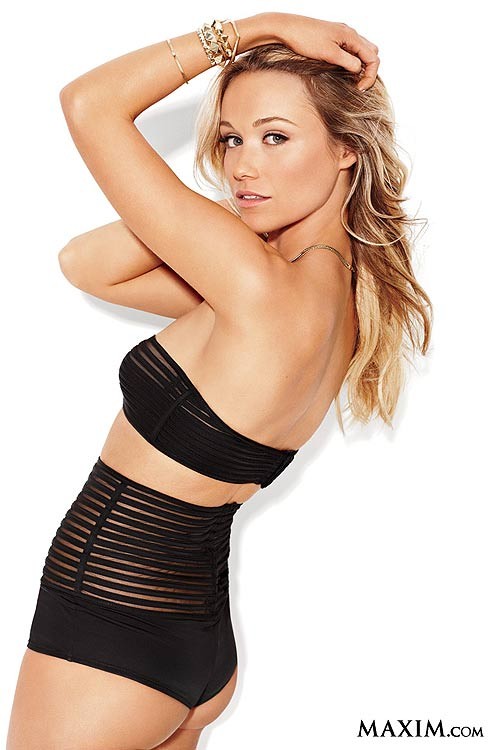 Katrina Bowden is flaunting her sexy figure in Maxim magazine's February 2013 issue.

The 30 Rock star's pictorial focuses mainly on her backside with the headline "Your Dream Girl's Back -- Literally", showcasing her derriere in several arrays of skimpy lingerie.

The show's youngest star says she's excited for what's to come afer her show ends its run this spring.

"I don't know, but I'm definitely excited for a new chapter," she says. "I'd love to do a completely different kind of show, like 'Breaking Bad' or 'Homeland'. I'm really open to anything whether it's TV or more films."

Katrina says it's interesting seeing herself on TV all the time now that the show's in syndication.

"Now that we're syndicated, there are reruns, like, three or four times a night. It's crazy! It becomes this weird timeline where I can tell what point of the shooting process we were at based on how everyone looks, like, did I have bangs? Or what baseball cap Judah Friedlander's wearing," she says.

The 24-year-old was only 16 and had no experience when she was cast on the show, but now she's a pro and she considers everyone family.

"I was so young and inexperienced when the show started, and the cast has basically been like family to me," she says.

"At first I felt like I was in over my head, but everyone made me feel so comfortable. I'd hang out with the people from the show and go to SNL tapings and the after-parties, and a lot of the writers were young," she says. "Like, Donald Glover wrote for the show before he was on Community, and he's just a little older than me. But it's not like I was going crazy and partying, which might have been different if I'd been on a show with lots of young people, like Gossip Girl."

See (lots) more of Katrina in the January/February issue of Maxim magazine and at Maxim.com. The new issue hits newsstands January 15.