Katniss And Peeta Embark On Their Victory Tour In Two New Movie Posters For 'The Hunger Games: Catching Fire'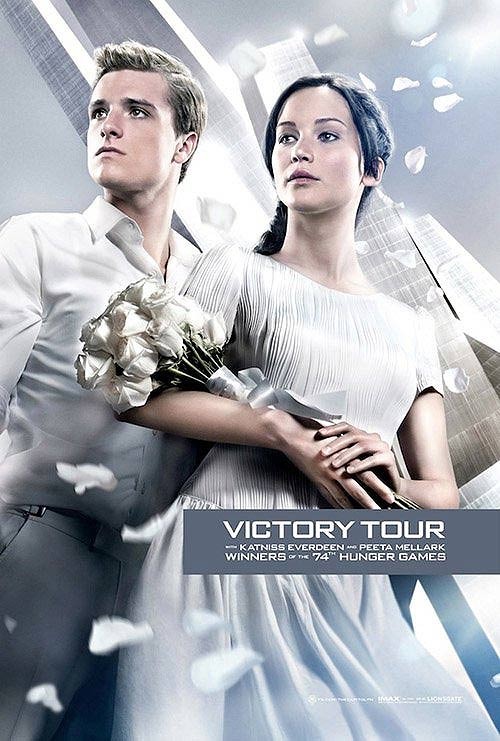 Two new posters for The Hunger Games: Catching Fire were recently released, showing Best Actress Oscar winner (Silver Linings Playbook) Jennifer Lawrence and co-star Josh Hutcherson as Katniss Everdeen and Peeta Mellark embarking on their "Victory Tour" of the 12 districts of Panem for winning the 74th Annual Hunger Games.

"The Capitol proudly announces the victors of the 74th annual Hunger Games, Katniss Everdeen & Peeta Mellark, as they embark on this year's Victory Tour!" the film's Facebook page reads. "Stay tuned to The Capitol PN for updates…"

The second book in Suzanne Collins's disturbing futuristic tale -- where every year two kids representing each disctrict are sent into an arena to battle to the death -- is set to hit the big screen on November 22.

"Catching Fire" begins with Katniss and Peeta returning home to District 12 briefly before setting out on a Victory Tour of the Capitol and the other 11 Districts -- homes of the 22 'tributes' who were killed in the 74th Games.
But Katniss begins to sense a rebellion is brewing thanks to her defiance of the rules at the end of The Hunger Games, where two winners were ultimately declared.

President Snow (Donald Sutherland) was none too happy about her acts and has some sinister stuff up his sleeve to deal with any potential uprisings -- and with Katniss -- for the next chapter.

Liam Hemsworth, Elizabeth Banks, Woody Harrelson, Philip Seymour Hoffman, Jena Malone, and Sam Claflin also star.

Don't forget to bookmark our Catching Fire page to keep up with all the latest news on the film and to check out more recently released photos from the production.