Katie Price Reviving Music Career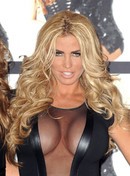 Former British glamour model-turned-reality TV star Katie Price is reviving her career as a pop star - she's recording new music with singer/producer Dane Bowers.

The busty star released her debut album, "A Whole New World", in 2006. The project charted in the U.K. at 20 and was certified gold, although a new single in 2010, titled Free to Love Again, failed to achieve the same success and only reached number 60.

Now Price, who was previously married to Aussie singer Peter Andre, is giving the pop charts another shot and she has recruited former Another Level frontman Bowers to help her.

She posted a photo of herself in the studio with Bowers and fellow music maker David Anthony on Friday , alongside the caption, "I'm recording my 1st single 4 (for) my forth coming (sic) album with Dane Bowers & David Anthony the producers".