Katie Price & Her Implants In Busty Ballerina Outfit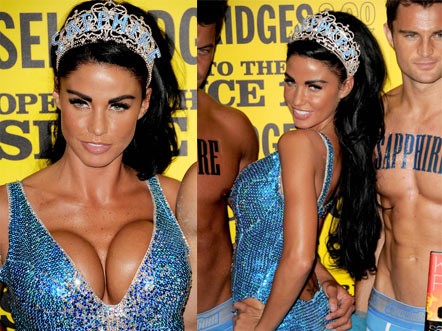 Katie Price
(aka Jordan) dressed to please at the launch of her new book, 'Sapphire.' The former Page 3 model appeared in a sapphire ballerina outfit, complete with tutu, too-tight top and her huge fake boobs.
Sapphire is Katie's fourth novel. She has also written six children's books and three autobiographies.
Katie most
recently opened up
about the end of her marriage to
Peter Andre
, including the heart-wrenching miscarriage just weeks before he left: "Emotionally for any woman, whether you're in the media or not, to have a baby died... and then your divorce, split up. That's a lot for someone to take in."
Katie said that
she was left devastated
by her ex-husband's decision: "Pete is the love of my life - and my life. We have children together and I am devastated and disappointed by Peter's decision to separate and divorce me - as I married him for life.
"This is not what I want and the decision has been taken out of my hands... But I will always love my Pete."
She has hired
Paul McCartney
's lawyer for the divorce proceedings.
Does Katie look hot or trashy? Are her breast implants sexy or ridiculous?
Leave a comment below!
Images © PR Photos