Katie Holmes Guest Stars As The 'Slutty Pumpkin' On New 'HIMYM'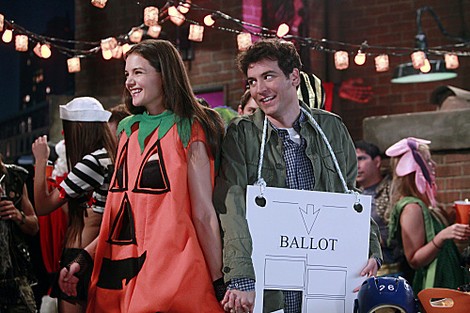 The promise of the return of the Slutty Pumpkin made this year's Halloween episode of HIMYM one of the most anticipated episodes in a long time.  HIMYM continues to pull in the A-list guest stars with Katie Holmes appearing as Naomi, the girl Ted ran into at a party 10 years earlier.  She was wearing a strategically carved pumpkin costume, and forever became known as the Slutty Pumpkin.  Ted lost her number, and since then he has been returning to the same party every Halloween hoping that he would run into her.
Ted ends up finally tracking down Naomi after recognizing the costume she wore at a Halloween store.  After asking the owner if he had records of who rented the costume, he all of a sudden had the answer to his decade long quest.  He looks her up, and she immediately recognizes him.  Everything is going exactly as Ted had hoped, so far.
There were two side stories this week involving the supporting cast, and both were pretty enjoyable.  The first was the ironic revelation that Barney's paternal grandmother was Canadian.  Barney loves America and frequently makes fun of our neighbors to the north, especially Robin, who was born in Vancouver (same as Cobie).   Robin finally gets to have her fun teasing Barney after this turn of events.  The second was that Lily had come down with "pregnancy brain," and it was affecting her decision making.  Lily, who always hated the suburbs, was now trying to convince Marshall to move into Lily's grandparents' house which they offered up to them.  The gag involved a lot of hilarious innuendo including Marshall professing that he would "love to be inside this house, but it wouldn't be right."  I found the whole bit to be pretty funny, but I have a feeling that mothers and expected mothers might feel differently.
Unfortunately for Ted, his budding romance isn't going as planned.  Everything is awkward, but he feels obligated to try to make it work.  He was a pretty funny confrontation with an imaginary 15 year old version of himself that says if he turns down sex from a girl he will come through time and kick his own ass.  At McLaren's he says to the gang, "I like her, I really like her, I just don't seem to like anything she says or does."  Ha!  Ted finally decides he has to break it off, but when he sees her in the Slutty Pumpkin costume he Mosbys it up at says that he loves her.  Oh, Ted!
They decide to go to that same Halloween party dressed in their costumes from ten years ago.  After getting kind of drunk, Naomi starts spilling out the truth.  It turns out she had felt exactly the same as Ted the whole time.  She felt like it wasn't working, but felt an obligation to try to make it work. 
So Ted won't end up with the Slutty Pumpkin (probably a good thing considering the nickname), but it was great to see Ted back out there trying to find his perfect mate.  This episode was written by show creators Carter Bays and Craig Thomas, and they never fail to disappoint.  It was tightly pulled together with a lot of funny moments.  Even though the whole Tom Cruise thing creeps me out a little bit, it's hard for me to not like Katie Holmes.  I think she did a pretty good job and I will be interested to find out how many people tuned in to see her as the Slutty Pumpkin.
The legend continues every Monday at 8/7c on CBS.