Katie Couric Shares Details Of A Past Date With Jeff Probst, Getting Asked Out By Michael Jackson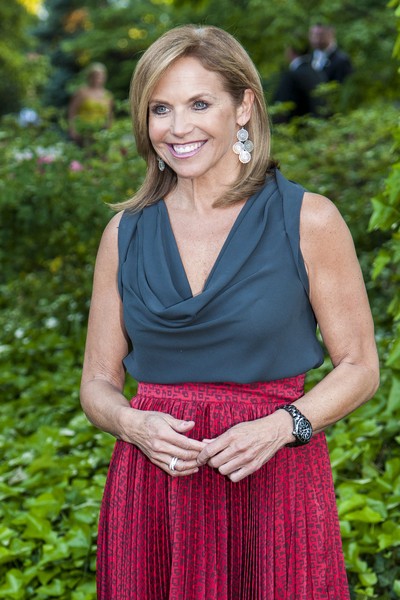 Newswoman Katie Couric has opened up her little black book, revealing an unlikely bunch of stars she's gone on dates with or been asked out by in a recent interview with radio shock jock Howard Stern.

Appearing on Stern's SiriusXM radio show on Wednesday, Couric said she was once asked on a date by Michael Jackson, who once said she's "the kind of girl I would like to go out with."

Katie told Stern that the outspoken Rabbi Shmuley Boteach, who was Jackson's friend and spiritual advisor in the 1990s, contacted her once on Michael's behalf.

"[Rabbi Shmuley] called me in my office... [He said], 'Katie, I have a question for you. Are you seeing anyone?' And I thought, 'This is so beyond creepy that Rabbi Shmuley is hitting on me'. I'm like, 'Rabbi Shmuley, you have, like, nine kids, what's going on here?'"

The famous Rabbi told her that he was calling to try and set her up with Jackson, but at the time she was already dating someone.

Couric does say that she regrets not going out at least once with the King of Pop.

"I do regret not having dinner with him," she said. "That would have been insane - breaking bread with Michael Jackson!"

The news anchor also revealed that she's gone on dates with the likes of comedian Bob Saget and Survivor host Jeff Probst.

Us Weekly.com caught up with Probst after he heard the date was brought up in Couric's recent interview, which he remembers vividly.

"What I remember most about the date is how nervous I was and how little I offered to the conversation," Probst said via an email from his location in the Philippines, where he's shooting the next season of "Survivor."

"It was like I forgot how to go on a date. Like I was 14. We talked a bit about her kids and the challenges of being a parent to teenagers, and we talked a bit about our careers and lifestyles but we never got much beyond the surface."

Katie recalled the date on Stern's show, saying, "He had puka shells on. That was kind of a weird thing."

But Probst says he would have "definitely" gone on another date with Couric -- but he didn't have her number.

"The only reason I didn't call back was the date was set up through her assistant and I never got her number," he said. "It felt weird to call her assistant for a second date, so it never had a chance to be a romance. Who knows what might have been? But it's a date I definitely remember! I mean, come on, it's Katie Couric!"

"I can't say that I was devastated that neither called me back," Katie said of her dates with Saget and Probst.