Katie Couric Says Larry King 'Lunged' At Her During Awkward Date Many Years Ago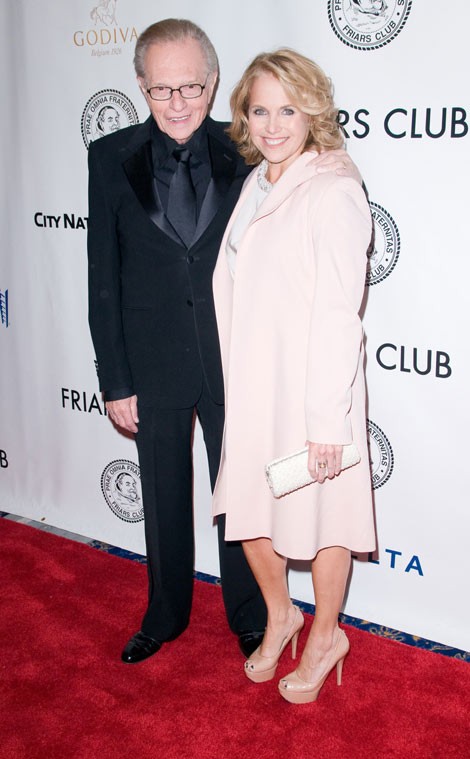 Katie Couric and Larry King went on a date together several years ago, and both stars have slightly different versions about what went down at the end of the night.

Couric opened up about the date during an interview on "Jimmy Kimmel Live" earlier this week.  She explained that she went out with King, who is 23 years her senior, while she was living in Washington, D.C. The iconic TV host picked her up in his Lincoln Town Car and treated her to dinner at an Italian restauraunt.

The former "Today" show host, now 56, remembered: "I was about 30 years old and I was in this period of my life where I [thought], 'I'm going to go out with anybody who asks me because you learn something any time you go out with a new person.'"

She added, "We had a nice enough time and we're going home and I see that we're going over [Arlington] Memorial Bridge, and this is not the way to my apartment. I said, 'Larry, where are we going?' And he said, 'My place.' Oh mother of God."

"So we sat there and what can I say? He lunged," she continued. "I started laughing a little because the whole situation was like out of a bad Lifetime movie. So I said 'Larry, you're such an interesting, nice man, but I would like to meet someone a little closer to my age.' He said, 'That's okay cause when I like, I really like.'"

Back in 2009 King gave Kimmel his version of events. He told the late night talk show host: "We went out to dinner, a nice Italian restaurant, we drove home, thought we were kind of romantic, we get to her door, in the apartment house and she said, 'Oh, I have a roommate.' Then I kissed her goodnight and that was that. And we became friends ever since."
Couric married Jay Monahan in 1989 and they had two daughters together. Her husband died in 1998 from colon cancer. She hasn't remarried but was involved in a long-term relationship with financial executive Brooks Perlin. King has been married eight times to seven different women.