Kathy Griffin Vs. Chelsea Handler: Who's better?

Kathy Griffin
and
Chelsea Handler
may possibly be the two funniest women on television right now. Both are known for throwing humorous jabs at celebrities and talking endlessly about celebrity gossip. Griffin and Handler also have successful TV shows which capture the essence their humor. Their outrageous opinions and takes on celebrities and pop culture keep fans (straight and gay) tuned in every week. And if you've seen their Stand up, you know how offensive these ladies can be. Both are talented at what they do, but who's better?
Comedy Style
Kathy Griffin has been known for years for poking fun at celebrities like
Paris Hilton
,
Barbara Walters
, and
Oprah
. She is also notorious for going into great detail about encounters that she's had with some of these celebrities. Griffin's comedy can be viewed as offensive, as she often says things that stir up controversy. During her Primetime Emmy award acceptance speech during the Creative Arts Emmys, Griffin stated that a lot of celebrities come on stage and thank Jesus, but Jesus had nothing to do with her winning the award. She went on to say, "So all I can say is suck it, Jesus, this award is my god now." Comments like these have supposedly led to her being banned from talk shows like
The View
. Similarly, Chelsea Handler doesn't hold back when it comes to expressing her opinions. She frequently mocks celebrities on her show. She is very edgy and isn't shy about revealing her personal life stories to the world. But at times it does seem like Handler tries to hard to be funny, often blurting out comments that leave you wondering, "Was that supposed to be funny?" Handler's sometimes forced humor doesn't compare to Griffin's natural ability at making audiences laugh.
Edge:
Kathy Griffin
TV shows
Both Griffin and Handler have hit TV shows. Kathy's show
Kathy Griffin: My Life on the D-List
is in its fifth season and airs on Bravo. The show has won a couple of Emmy awards for Outstandind Reality show (Non-Competition). Chelsea's show
Chelsea Lately
is in its third season and currently airs on the E! network. Last week the show attracted over one million viewers.
Kathy Griffin: My Life on the D-List and Chelsea Lately differ in format. Handler's show is a nightly talk show that features comedians who comment on celebrity news. The show also features D-list celebrities. Kathy's show is all about her being on the D-list and documents her life at home with her assistants, on the road doing Stand up, and on the red carpet. The show has also featured celebrities like her friend Lance Bass. Unlike Handler's show, Griffin's show doesn't require notes and a teleprompter. It's as candid as candid can be. Handler's show has its moments, but Kathy's show has won Emmys. Enough said.
Edge:
Kathy Griffin
Physical Attractiveness
Kathy Griffin and Chelsea Handler aren't
Megan Fox
or
Scarlett Johansson
, but they're fairly attractive. If you're drunk on a Friday night. Kathy looks better now than she did a decade ago when she starred alongside
Brooke Shields
in Suddenly Susan. She has admitted to having plastic surgery. This has definitely improved her appearance and made her into a red-haired foxy lady. Many guys found Chelsea to be very attractive when she starred in Girls Behaving Badly. Chelsea stills looks good after all these years. She has great figure for a female comedian and she's blonde. Guys love blondes. Both Handler and Griffin are fair looking, but if one were to choose, Handler would be the one they would want to take home.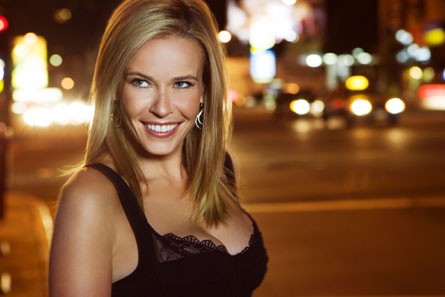 Image © Courtesy Special Ops Media
Edge:
Chelsea Handler
Popularity
Chelsea has risen to prominence only until recently. She's made appearances on the View and the Tonight Show. She's had a couple of talk shows. And with the success of Chelsea Lately, audiences have become more familiar with her and her Stand up act. Kathy Griffin has been around for awhile. She gained recognition for her role on Suddenly Susan and her Stand up which led to an HBO special. After winning Celebrity Mole in 2003, she's had even more success with her reality show and appearances as host or guest on many talk shows. She is one of the top female comedians working today. As much as Kathy likes to think of herself as a D-list celebrity, her recent success may have upgraded her status a little bit. Between Griffin and Handler, Griffin is clearly the popular one. But Handler is very close.
Edge:
Kathy Griffin
Kathy Griffin reigns supreme.
Winner: Kathy Griffin
Story by
Maccorley Mathieu