Kathy Griffin Sexually Harasses Anderson Cooper On New Year's Eve Telecast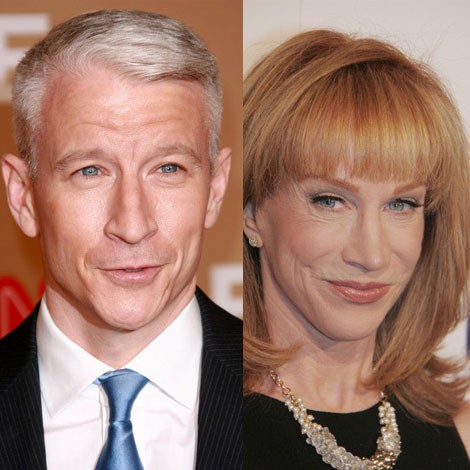 Kathy Griffin sexually harassed co-host Anderson Cooper on CNN's New Year's Eve live coverage, simulating an oral sex act and forcing Anderson to push her away.
Griffin is no stranger to controversy over the last three years on the New Year's telecast, having dropped an f-bomb on air and stripped down to her underwear in years past.
This year she told Anderson Cooper while on camera, "I'm going to tickle your sack. You can say sack. That's not bad."
Her co-host tried to explain away the comment, "I don't know what you're talking about. I have no sack of gifts here. A sack of Christmas presents. I did not bring a sack of Christmas presents."

Griffin responded, "Do you call your private parts your Christmas presents? Typical hot guy."

Hours later, after midnight, CNN covered a Maine town's local tradition of kissing an 8-foot sardine. When Anderson and Kathy were back on air, Kathy was bent over, trying to kiss Anderson's crotch.
"Did you drop something?" Anderson asked, once again trying to explain away his co-host's unacceptable behavior. "No, I was kissing your sardine," Kathy joked.
As Anderson struggled to keep her on her feet, she argued, "You know you want to," to which he replied, "Believe me, I really don't."