Kathy Griffin Calls Demi Lovato The 'Biggest Douche Celebrity' She's Ever Met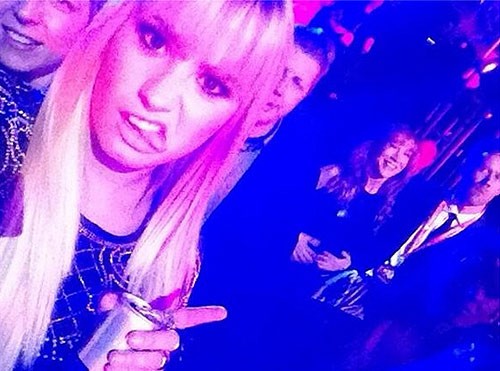 Demi Lovato and Kathy Griffin have gotten into a war of words on Twitter after Griffin referred to the singer as the "biggest douche celebrity" that she's met.

Lovato recently criticized Lady Gaga for having a performance artist turn her into a living canvas by swallowing paint and regurgitating it all over here, equating the unconventional "art" with glamorizing eating disorders like bulimia.

Griffin was asked on Monday who she thinks is the "biggest douche celebrity" that she's ever met, and she replied, "Probably Debbie (sic) Lovato."

"Plus she should calm the f down about Lady Gaga getting barfed on," Griffin added.

Lovato didn't find Griffin's remarks amusing, posting a photo of herself sticking out her tongue while Griffin stands in the background on twitter and firing back, "Only a 'douche' to people I can't stand."

Lovato quickly removed the post though, and she also had to calm down her fan base, aka "Lovatics," asking them to lighten up on the hate messages and death threats aimed at the comedian, who re-tweeted some of them.

"I love you guys so much but y'all gotta chill with sending hate towards other people," she wrote in an extended post on Twitter. "Regardless of what they say or do..."

"It makes me so sad to see how mean people can really be after all I've spoken out about anti-bullying," she added.