Kathy Griffin Calls Demi Lovato Fans 'Vicious' After Receiving Death Threats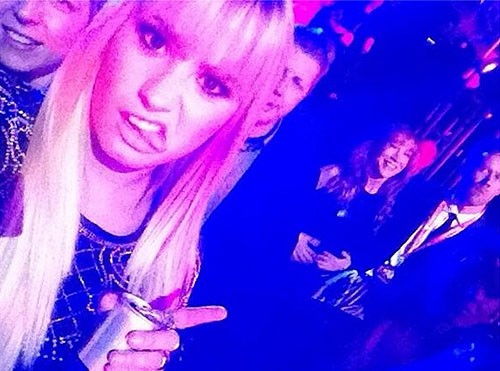 Kathy Griffin learned the hard way Demi Lovato's fans don't take kindly to people who call their idol a "douche."
While on Howard Stern's radio show yesterday, Griffin revealed she has received multiple death threats from Lovato fans (known as "Lovatics") following her tweets calling Demi the "biggest douche celebrity" and told her to "calm the f down about Lady Gaga getting barfed on."
While talking on Stern's show, Griffin said she got the "douche vibe" from Lovato after seeing her backstage at a show taking a selfie (above, with Kathy int he background). She then shared some of the Tweets she got from Lovato's fans, saying they are "so over the top they're funny."
Warning: Explicit Language
Among the messages were, "I will burn your house down c—t," "don't talk s—t about Lovato again or us Lovatics will kill you in your sleep," and, "get cancer, please slit your f—king throat."
Griffin then revealed she had been contacted by police who were alerted due to the contents of the messages. Despite the death threats, the comedienne says she has "nothing against Demi."