Kathy Bates Is Ready For Another Course Of 'Harry's Law'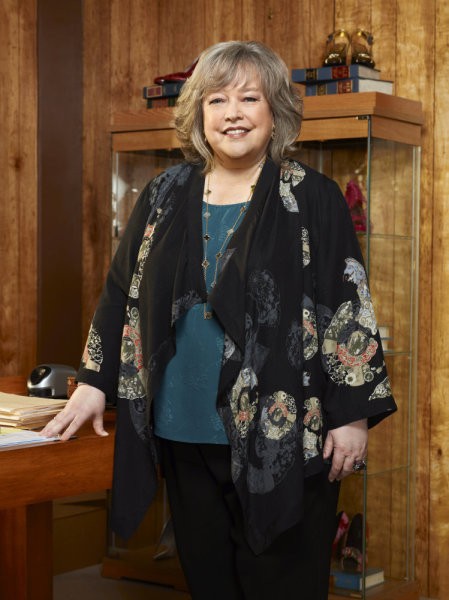 'Harry's Law' is gearing up for a second season on NBC, and star Kathy Bates is ready to go.
The show was one of NBC's bright spots last season, and the network is confident enough to move the show to Wednesdays at 9 p.m. EDT starting Sept. 21.
Bates, for one, is having a ball.  In a conference call, Bates says she is riding the momentum from the first season, and she's enjoying it now.  She notes the challenges of such a physical job and learning so many lines.  "You know, it was a steep learning curve last year," she says, "But I'm really enjoying it. I really enjoy going into work every day."
She feels grateful to play someone like Harry, she says.  She especially enjoys Harry's wit and easy time responding to others.  "I think… Harry has that ability that we all wish we had, to say in the moment eloquently and forcefully exactly what's on our mind."  She adds that it's fun to play someone who's almost superhuman in the way she's able to express herself.
Some say Harry can be curmudgeonly and grumpy, and Bates doesn't disagree.  "I think she's got a heart of gold underneath all of that, but she's pretty blunt and pretty straightforward," Bates adds.
So what can we expect in season two?  Well, the absence of Jenna (Brittany Snow) and Malcolm (Aml Ameen), for starters.  Bates admits she's bummed and misses the actors.
But there are exciting guest stars on tap, too.  Alfred Molina and Jean Smart are slated for an episode coming up.  And Paul McCrane, who over the weekend won a Guest Actor Emmy for his role last season, is slated to return, and he's going to direct an episode too.
The actress is herself an accomplished director.  She has directed episodes of series such as 'Six Feet Under' and received an Emmy nomination for directing the TV movie 'Dash and Lilly.'  So, would she ever consider directing an episode of 'Harry's Law'?
"You know, certainly, I've been thinking about it a little bit," she says.  She marvels at the work McCrane did on the show and says it's made her consider the possibility.  But it would probably require reduced screen time for her so she could prepare for it.
Bates doesn't have a legal background per se, but says her mother wanted to be a lawyer.  But it wasn't easy for women to get into the profession back then.  "When I got the script for 'Harry's Law' I thought about my mother and I thought, 'Well, you know, this is… as close as she'll get'," Bates muses.
"It's a bit of a nostalgic trip for me at times, imagining what kind of lawyer she would've been because she was awfully smart and blunt herself.  And so I kind of feel like she's the Harry Korn in my life."
Emmy voters are loving her portrayal.  Bates is up for an Emmy this Sunday, and she just might win.