Katheryn Winnick Talks About Her Latest Movie 'Cold Souls' With Paul Giamatti And More

Having just gotten great news about her new movie, "
Cold Souls
," in which she co-stars with
Paul Giamatti
, we chatted with
Katheryn Winnick
and found her to be real, honest, and a dedicated artist to her craft. Not to mention superwoman in the martial arts.
We hear you recently came back from Sundance.
I did! We found out that Goldwyn just bought our movie, "Cold Souls."
Yay!
It's really exciting!
How did you like it there?
It's the first time. It's beautiful. What they say is true. When you go to Sundance, you get a mix of seeing good movies and a chance to meet great people. It's fun to go there when you have a movie that's getting good buzz. They are saying it's Paul's best performance to date.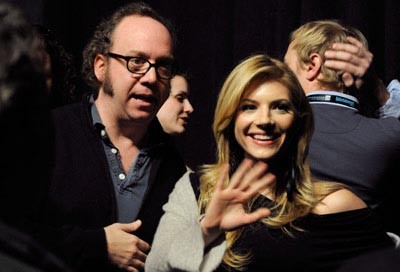 What about your performance?
I play off Paul's soul. I play a Russian actress and I learned the language for the role. A lot of people who saw it actually thought I was Russian. They were shocked when I started to speak English. It was fun. I got a chance to embody him and try to figure out what it would be like to have Paul Giamatti's soul because he plays himself, or a version of himself. It's a really interesting piece.
It looks like a combination of sci-fi and satire.
The way Paul plays it and the way Sophie (Barthes) directed it was very realistic and honest. I had a chance to really dive into what it would be like to have an artist's soul. It was fun for me to play. I believe it will hit theaters later on this year.
Are you anything like your character Sveta?
Yes, I think that a little of me is in every character. I think that's important. The only way to do it is to try to figure out what part in her is strongest in you. For somebody who wants more out of life and to live in the moment and feel complete as an artist. I'm inspired to achieve that and still working on it. And to get a chance to work with Paul was a dream come true. He is absolutely amazing. And Sophie is so talented (with) her directing and writing. I feel really lucky.
I got a call from my agent when the script came out and he asked, "Can you speak Russian?" No, I said, but I can speak Ukrainian and most people don't
know the difference, so let's give it a go. When Sophie came into town, I go on and on in Ukrainian (actually speaks Ukrainian here.) She looks at her boyfriend Andre and says, "We don't understand a word you're saying. We understand Russian. " So I took a 4-day crash course and found somebody on craig's list to learn it for the role.
Sundance 2009 Red Carpet - Cold Souls

I recently watched "John Adams." That's a sort of 6 degrees of separation thing.
Small world, right? That was amazing. I was talking to Paul about looking for a martial arts script. I would love to work with him again and do something that's action based but had good acting.
I heard that you were into martial arts.
Uh-huh. I got into my first school when I was 16. I have a 3rd degree black belt in Tae Kwon Do and a 2nd degree black belt in Karate, licensed bodyguard, licensed self-defense instructor, ranked 2nd in Canada. It was a big part of my life. I started teaching actors and actresses martial arts on movie sets. That's how I started in the business. But I have never really had a chance to do it on screen yet. I would love to find a really cool project like a female "Bourne."
Perhaps you should be talking to Jackie Chan.
That might not be a bad idea. I'll put that done on my list. (laughs)
(laughs)
Maybe he will read this interview and get in touch. David Strathairn is also in "Cold Souls"?
Yes, and
Emily Watson
. We have a fantastic cast. We worked on an ultra-low budget and had people who really believed in the project. Everybody got along great. It was very quiet, calm and encouraging on set. It was probably one of the best sets I have worked on.
You seem to have a tendency towards indie movies.
I love indie movies. You get people who have an opportunity to speak their own voice in a medium where you don't necessarily need a high budget, special effects or studio bosses. To have a voice and say something real, that means something. I think it should be more supported. That's what so great about Sundance. "Cold Souls" was done on an ultra-low budget but got picked up.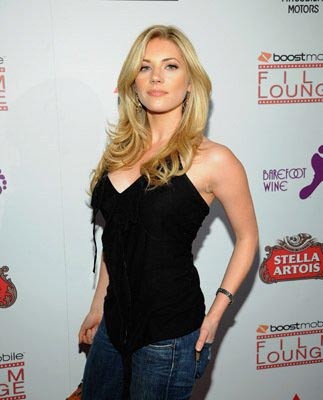 Tell us about "Amusement."
That was for New Line. We shot that in Romania and I haven't seen it yet so can't talk much about it. I know there is a big fan base that like those types of movies.
You don't like horror/thrillers?
If it is the right script and the right people. I am a fan of good writing and the emotional vulnerability of it all. So for me it depends on each project.
Yet you were in "Hellraiser: Hellworld."
You gotta start somewhere. (laughs) That was early in my career. I hope I get a chance to do more artistic movies, although it depends on the script.
(laughs)
Are you a good screamer?
I refuse to be a scream queen. (laughs) For me it has to be good writing and acting.
(laughs)
You were in "House."
Yeah, I did an episode. The creator of the show (David Shore) wrote it and it was a very strong female guest star role. I got to work with
Hugh Laurie
and figure out what kind of guy he is. He is really amazing, one of the best in the business. I ended up getting a FOX deal from that one little episode. It had crazy ratings. I hope I get a chance to work with him again.
Which episode was it?
It is called "One Day, One Room." I play a rape victim who tries to overdose, finds out she has an STD and is pregnant. House tries to tell her to abort the baby. They get into this philosophical debate about what's right and wrong. After that, I couldn't get out of bed for about 2 weeks. (laughs.)
Katheryn Winnick in 'House'

Understandable. I saw that episode. What was your first role?
My very first was a TV show called "Student Bodies." It was a Canadian TV show like "
Saved By The Bell
." We shot that in Montreal. It was my first or second audition ever. I ended up going to New York and they had an open casting call for "
The It Factor
" on Bravo. I got chosen as one of the 12 that they followed around for 6 months who were trying to get into the business. People who have "it." So from Toronto to New York, I climbed my way up to LA.
You are very young to have done so much already (born in 1984.)
There is some stuff out there with the wrong information. Thanks for correcting it.
Do you get to go home much?
I try to every three to four months. All my friends and close family are still there. It's important for me to get a dose of reality and go home and get a home-cooked meal. Perogies and all that stuff.
Can you cook?
I want to (laughs) but I haven't gotten around to it yet. I will one day. I have always wanted to go to France for a month, go to a little villa and make it all.
What's on your playlist?
Dave Matthews
,
Moby
right now for some reason. It goes on shuffle. I'm not married to any particular artist or genre. I listen to everything. Sometimes jazz, sometimes classical, depending on what kind of movie I'm doing or what I am in the mood for. I use music a lot in preparing for roles.
What else have you been working on?
I have another movie coming out that I just finished called "Choose" with Rob Legato directing. He is super fantastic. He is a big visual effects guy and has worked with
Martin Scorsese
. He won an Oscar for his work on "
Titanic
" and this is the first one that he has directed. I think it is going to look amazing. It's like "Se7en" meets "Sophie's Choice."
I did the season premiere of "Law and Order: Criminal Intent." I think that is coming out next month. I got to work with
Vincent D'Onofrio
again which was really nice. It's been busy. It's been really good!
I was in Korea in September at a film festival when I got the call. The day before I was supposed to leave, I found this Buddhist temple outside of Seoul up in the mountains. One of the Zen masters spoke English and told me to stay, move in with the monks and study meditation. So I got my bags from the hotel and moved into the temple, slept on the floor and studied. It was the hardest thing that I have ever done. I was supposed to be there for 6 weeks when I got the call. Hopefully, I will get a chance to go back there.
That's a great perk to being an actor.
I know. Last year I was in St. Petersburg, New York several times, Korea. Europe is beautiful.
Where can your fans reach you?
www.katherynwinnick.com
Is film your favorite medium?
I love film but there is some really good TV right now, too. I would like to develop a martial arts show. That's what I am working on to put together. There are people in film now that want to be involved in TV. I love film because you have more time and if you are working with people like Sophie and Paul, people of heart, what they are doing is creating art. It's something that stays and has that lasting power. The movie will always be around.
It's like you are leaving a little bit of yourself and giving something to history.
That's probably one of the main reasons I wanted to be an actress, to learn about myself, to keep me grounded and honest on a day to day level. What
better industry to leave a part of yourself, hopefully something meaningful, inspiring and something that's out there that will always be there.
We really appreciate you taking the time to talk with us, Katheryn. Thank you!
Story by
Sheila Franklin
Starpulse.com contributing writer
Click the pics for Katheryn Winnick's gallery: