Katherine Webb Forced To Pull Out Of ABC's Diving Competition 'Splash'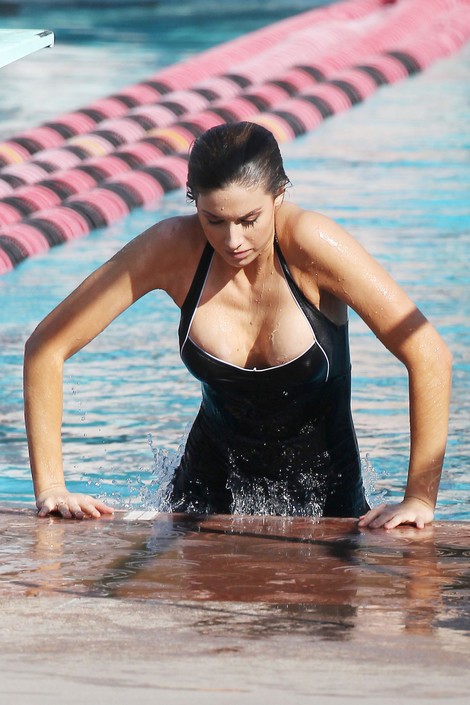 Katherine Webb's 15-minutes of fame appear to be up.

The former Miss Alabama made headlines in January after she was spotted by sports analyst Brent Musberger, who was enamored by her beauty when she was caught on camera at the NCAA Football National Championship game.

Webb, who dates Alabama quarterback A.J. McCarron, had Musberger gushing, making her an instant household name.

"Well, I tell you, you quarterbacks," he said, "you get all the good-looking women! What a beautiful woman."

Since the big game between Alabama and Notre Dame, Webb has made the rounds on the minor circuit, landing a gig as "Inside Edition's" Super Bowl XLVII Corresondent, appearing in the 2013 Sports Illustrated Swimsuit Issue, and getting a spot on ABC reality show Splash.

But now it seems her celebrity may have run out after her doctor told her to pull out of the network's diving competion.

"I went to the doctor and, unfortunately, he told me I'm out for the competition," she said, according to the NY Daily News.

Webb suffered a back injury during the early stages of the show, and her doctor informed her that she's at risk of doing more serious damage if she continues on with the competition due to the higher diving platforms.

The show has had its share of setbacks since the start. During the initial training stages, Chelsea Handler's sidekick, Chuy Bravo, suffered a broken ankle, and, more recently, Kendra Wilkinson bowed out of the show over her high dive fears.

Louie Anderson, who was ousted last week, was brough back after Webb pulled out of the show; however, he pulled out after successfully completing a big dive on his return, admitting he had no shot at winning.

"I know I have very little chance of winning this competition," he said. "And I am going home, and I am going to defer to (fellow competitor) Brandi (Chastain) because she has a chance to win this competition."

The show itself has been sinking in the ratings lately.