Katherine Heigl Excited To Be Back On 'Grey's Anatomy' Set

Katherine Heigl
now sports a short cropped hairdo, colored brunette. Since her
Grey's Anatomy
character, Izzy, went through brain surgery, she can just wear a bald cap on the show.
"[This is] for fun, because on the show I don't have hair," Heigl said. "Now I can do whatever I want."
Resolving the season finale surgery after a summer hiatus has been a reunion of sorts for Heigl, who has been rumored to contemplate leaving the show altogether.
"It's exciting to be back, because I've missed my friends and it was really fun to see everybody. It's such a strange thing. It's been two months but it doesn't feel like any time has past at all because you're right back in the same set, same wardrobe, and with the same people. Maybe you haven't seen each other for the weekend. That's what it feels like. Aside from Ellen [Pompeo]'s growing belly, last time I saw her it was just a tiny bump, and now she's got a basketball and it's weird."
Part of the reunion is bittersweet, however. Heigl's costar did not come back for the new season. "Nothing has changed and it's wonderful, except for
T.R.
[Knight]. That was really actually very strange and really hard, because T.R. provided so much fun, joy, and levity for me and everyone else."
In case the fate of George O'Malley still felt ambiguous to fans, beware of the following spoiler. "We were all sitting there, we had to do a scene about George's death and
Justin
[Chambers] kept saying, 'I just keep imagining T.R. on Broadway like [waving his hands] while we're mourning the character's death.' Then we all sort of went 'Yeah, that's hilarious. Oh, that's really sad. He would be laughing really hard now too, and he's not here to laugh with us.' So it's a little strange in that regard but other than that it's good to be back with my friends and my family."
Click here to follow @Starpulse on Twitter!
Click for more Katherine Heigl's picture: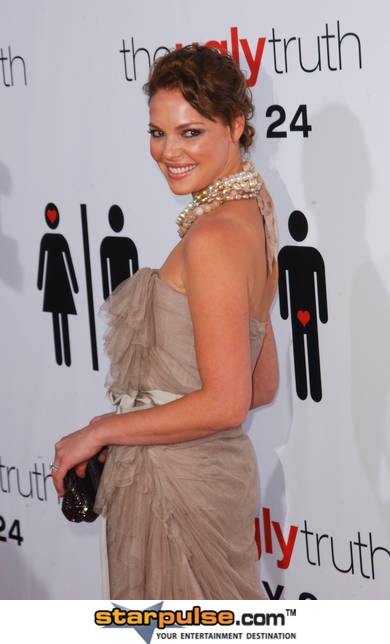 Image © PR Photos
Story/Interview by
Fred Topel
Starpulse contributing writer
(Starpulse in Hollywood)
: Every week, Hollywood's biggest stars are meeting in the hot spots and Starpulse is there.