Katherine Bailess Front and Center On VH1's 'Hit The Floor'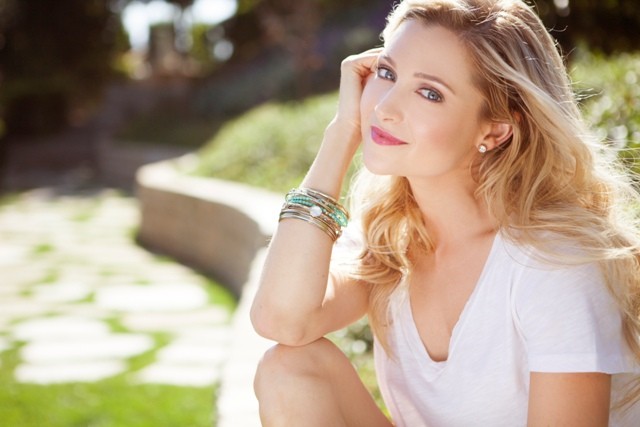 The multi-talented and hilarious Katherine Bailess is currently turning heads as Kyle Hart on VH1's new scripted drama series Hit the Floor. BFTV recently caught up with Katherine to find out how she landed the "sex on legs" role, and how there's much more to her than just her good looks.
"It's a dream come true for me," she enthused. "My character keeps on growing and growing and growing, which makes me as an actress so happy. My character is quote-unquote "sex on legs." You think about that and think, 'Oh, she sounds mean or slutty,' and she's not. For me, this character is not a bitch at all. She's fun, sexy, confident, independent and she's not a bitch. I think people are going to associate with her because she's funny. My character's pretty much the comedy of the whole show. She's got a big heart."
"I feel like this is a new show that no one's ever done. No one's ever done a show about the pro basketball world and namely about the dancers," she continued, and she brings her own expertise in that department to the table. "I was always a dancer from the get-go," she added. "I started dancing, [age] three was my first dance class, up until I got a scholarship to dance in college. I also was a gymnast."
Bitten by the performing bug thanks to her involvement with the Miss Mississippi Pageant, Katherine eventually found her way into acting. "I fell into acting with a manager who spotted me in a musical I was doing at school. That's how my whole career changed into the acting world," she explained. "Everyone was always telling me 'You're an actress. You're going to be an actress.' I love entertaining people, I love moving people, I love making people laugh."
She moved from New York to Los Angeles, where she booked film roles in From Justin to Kelly and Bring It On Again. However, she's probably best known to TV fans for her role on One Tree Hill, where she played Erica Marsh for five episodes in season two. Katherine considers that one of the highlights of her career.
"[That] one I struggled for. I was like 'Okay, I'm going to be doing my music,' because I'm also a country singer as well. Something just told me I needed to concentrate on my acting again. It was a gut feeling that I was going to get a show," she said. "That was a great, great show to work on. My character only lasted a year, but it was a great experience. One Tree Hill brought me back on the map with getting recognition and having a little more depth as a character."
She also has a soft spot for From Justin to Kelly, despite its status as one of the most maligned movies ever. "It might be a cheezy movie," she confessed, "[but] there's a dance number in there that I'm very proud of. It's me and like fifty guys. That was my first introduction into the movie world and it was with a bang. I feel that right there was the beginning of something special."
In addition to being both an actress and singer, Katherine has also ventured into hosting, having worked for AfterBuzz TV on occasion, which reunited her with fellow One Tree Hill alum Maria Menounos. She appeared on several of AfterBuzz's aftershows, providing commentary and even a little bit of music. "I'll guest host sometimes now with them," she said. "I really, really enjoy hosting. It shows your personality. You're not playing a character. It's you. People like that you can go out there and be yourself. "
Having that experience from the other side of the equation has changed her perspective as an actress "a little bit," she told us. "When you're sitting there on the outside talking about a show you've got to be kind of critical otherwise it's a boring show. For me, I'm like 'How are people going to look at my character?' And I can't really think about that when I'm acting."
Whether you end up liking Kyle or hating her, it's impossible not to love Kat, whose boundless energy and enthusiasm for all of her various projects shines through constantly. She so loves what she does that this multi-hyphenate hasn't stopped working even though Hit the Floor has finished filming for the season. "I just wrapped the show and I was like 'Oh, I'll get some tme off' but now I'm actually doing a play in Los Angeles," she said. "I did it last year and I'm reprising my role this year. Plays for me are just fun. I'm super-excited for that." And we're super-excited to get to see more of Katherine in what should be a bright future.
You can keep up with Katherine on Twitter (@KatBailess). Hit the Floor airs Monday nights at 9 PM ET/PT on VH1; you can find out more about the show by visiting the official website. As a bonus, check her out in this hilarious YouTube video below.
(c)2013 Brittany Frederick. Appears at Starpulse and Examiner with permission. All rights reserved. No reproduction permitted. Visit my official website and follow me on Twitter at @tvbrittanyf.