Katharine McPhee Named Spokesperson For Malaria Charity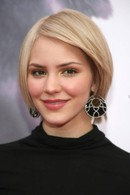 Singer/actress Katharine McPhee has become the spokesperson for a malaria charity to help battle the epidemic in Africa.

The former American Idol star is the new representative for Malaria No More (MNM), which works with various organizations in a bid to "end deaths due to malaria," and McPhee is using her new role to encourage her fans to donate to the cause.

She tells USA Today, "There remains a misconception about what (malaria) actually is and that it's entirely preventable. What the message needs to be is that we can get rid of this. A 10-dollar donation for a mosquito net helps. It's the simplest thing you can do."

"You can leave it up to MNM to ensure that the nets are really getting to the actual people in Africa."

The House Bunny star is planning to travel to Africa to raise awareness about the campaign over the next year.