Katharine McPhee And Jennifer Hudson Never Talked 'Idol' On 'Smash'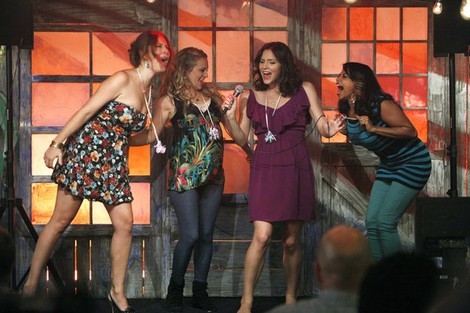 Smash returns for its second season tonight with special guest star Jennifer Hudson. Hudson is the second former American Idol to appear on Smash. The show stars Katharine McPhee as a regular, but McPhee said they never talked Idol when Hudson guested on Smash.
"It never came up, no," McPhee told the Television Critics Association in January. "We just were there for something entirely separate from where we started. It's not a natural thing that you'd think would just come up in conversation. I was happy to have her on the show and pretty much for most part we just did the work and then I let her have her space."
When McPhee was on Idol, her fans rallied for McPhever. We haven't heard a lot about McPhever lately, so maybe it's time for the fans to bring it back. "It's a fun term," McPhee said when asked about McPhever. "Bring it back! That's not my job, that's your job!"
Smash airs Tuesday nights on NBC.