Kate Winslet Thrilled To Star In 'Carnage'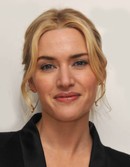 Kate Winslet jumped at the chance to star in Roman Polanski's new comedy Carnage - because she's always been a fan of the legendary director.

The movie, based on the hit Broadway play God of Carnage, stars Winslet, Jodie Foster, John C. Reilly and Christoph Waltz as two sets of parents who meet up after their kids brawl at school.
 
The comedy was well-received by critics after its world premiere at the Venice Film Festival on Thursday, and Winslet reveals she didn't hesitate to sign up to the movie.
 
She says, "When Roman Polanski invites you to join him in any project you don't really say no. I felt extremely fortunate to be included."

However, the Titanic star admits she was nervous ahead of her first day on set with the moviemaker: "We are only human beings and we are still perfectly capable of being terrified, whoever we are."